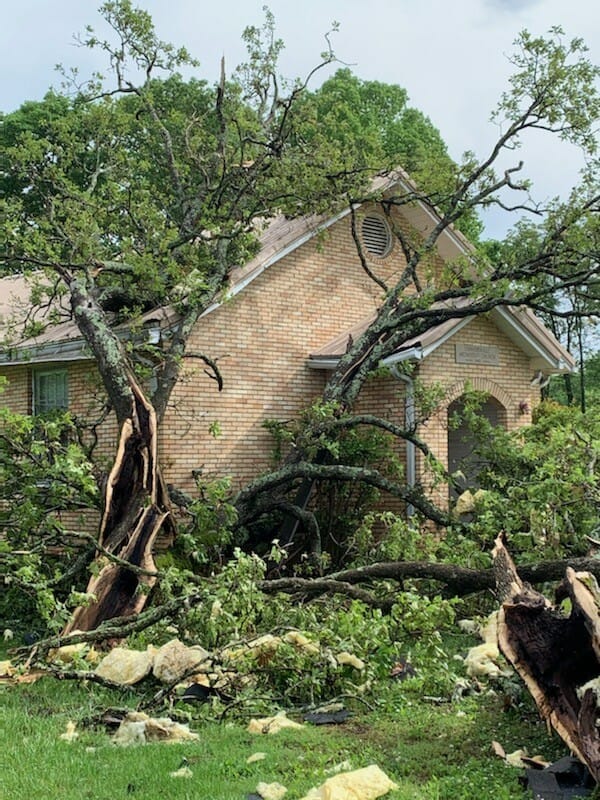 By Shannon McFarlin News Director
Paris, Tenn.–Henry County Emergency Management Agency Director Ron Watkins has issued a preliminary damage assessment of today's early morning storm which caused widespread severe damage in Paris and the county.
The storm hit at 4:17 a.m. this morning with 60-80 mph straight line winds, Watkins said, causing widespread damage especially in the areas of Paris and Puryear. Miraculously, no injuries are reported.
Henry County was hit by an EF-1 tornado last week.
According to officials with Paris Energy Authority, immediately after the storms some 8,500 customers were without power.  Utility crews once again were out repairing major damage to utility poles and lines for the second time in six days.
Watkins, EMA Volunteer Logan Gregory, and County Mayor John Penn Ridgeway completed a preliminary damage assessment report and the following damage was noted:
Homes damaged: 35
2- Mobile home destroyed Mobile Home Park and Conyersville Rd. (roof off the home)
1-Mobile home moderate damage due to tree on roof, Mobile Home Park
4- homes major damage due to fallen trees
29- homes minor damage due to wind trees
Businesses damaged:  5
Servall Pest Control 900 Tyson Ave
Sonic Drive Inn-504 Tyson Ave
Cash Express- 414 Tyson Ave
Victory Lane Express- 411 Tyson Ave
Church Damaged: 1
2150 Conyersville Methodist Church- Conyersville Rd Puryear  Trees on Roof.
According to Watkins, one mobile home was destroyed by a fallen tree at a mobile home park located at 716 Memorial Drive.  Residents were at home and one woman said she was very scared when the big tree fell through her kitchen.  She was lucky she was not seriously injured by tree branches when it fell, Watkins said. Mr. and Mrs. Freeman's home sustained major roof damage and water  damage from the rain that followed.
Paris Police and Paris Fire Department responded and was able to cut trees to gain access to the homes.  The Jackson Chapter of the American Red Cross will be assisting the Freemans and any others family displaced.
One area especially hit hard was the Puryear area with several trees and homes damaged, Watkins said.  Several barns and outbuildings were destroyed as well.  Roads with damage included Anderson Dr, Henderson Dr, India Rd, Hwy 641 N, Hwy 140 E, Conyersville Rd, Mt. Sinai Rd, Wilson Rd, and Walters Dr.  A parked tractor trailer truck on Conyersville Rd was blown over onto its side by the high wind.
A structure located on County Club Lane in Puryear was hit by lightning around 5:48AM and caught fire.  Henry County Sheriffs Office, Puryear Fire and Paris Landing Fire responded and quickly knocked down the flames. Paris Landing Fire Chief Reggie Coles said his department was on the way to the fire, but was called back because it had already been extinguished.
The city of Paris had several businesses damaged on Tyson Avenue including Servall Pest Control, Sonic Drive Inn, Cash Express, Victory Lube Express, and the Knights Inn.  Most of the businesses received moderate structural damage including roof damage, blown out windows and doors and light poles toppled.  Other streets impacted were Memorial Dr, McFadden St. N. Market St, Tyson Avenue. McFadden Street is closed while crews repair damage to homes. One end of Brown Street is closed.
Henry County Highway Dept, Paris Public Works, and TN Dept of Transportation worked quickly to remove trees from the roadways to reopen roads. Paris Henry County Rescue Squad Responded to assit law enforcement with traffic control and debris removal.
Henry County is under a threat of more severe weather this evening with the Storm Prediction Center issuing a level 2 out of 5 for most of West Tennessee and Middle Tennessee.  High winds, heavy rain, and hail.  Timing  expected to begin around 3 PM and move out by 11 PM tonight.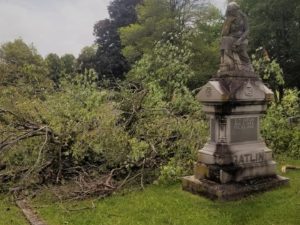 The giant redbud that has graced the Gatlin family monument at Maplewood Cemetery is now gone. Shannon McFarlin photo.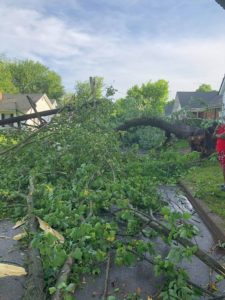 Brown Street damage. Photo by Miranda Moon.
Top photo: Conyersville Methodist Church. Photo by County Mayor John Penn Ridgeway.