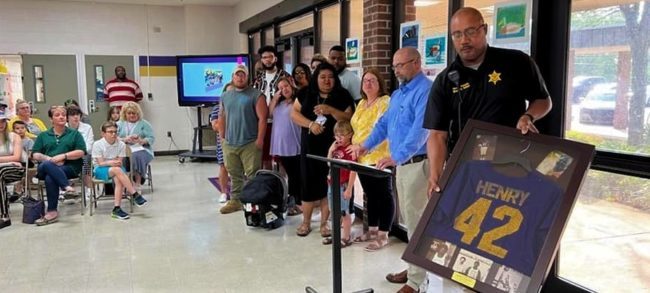 Henry, Tenn.–The late Henry County Schools Teacher and Coach Roddy Adkisson was honored at Thursday night's county school board meeting. Adkisson ended his lengthy career at Henry School, which is where the meeting took place.
School Resource Officer Sgt. Rodney Littleton displayed a shadow box with Roddy's original football jersey to Adkisson's family at the meeting. The shadow box will be on display in the trophy case at Henry School. Adkisson passed away in May of 2021.
The shadow box is a memorial to Adkisson and his service to Henry School and the entire school district.
Also during Thursday night's meeting:
–Henry School Art Teacher Valerie Godina shared stories of school-wide art competitions and other creative opportunities for students. She also introduced students who placed in the regional and state Duck stamp competition.
–Mary Thrash introduced The Million Words Club. Members have read at least one million words and were awarded a certificate and $50 Walmart gift certificate, thanks to a Plus Endowment grant.
–Betsy Alison shared the year-long activities for Employability Counts, a partnership with the county's Workforce Development and community businesses.
Susan Burton photo.