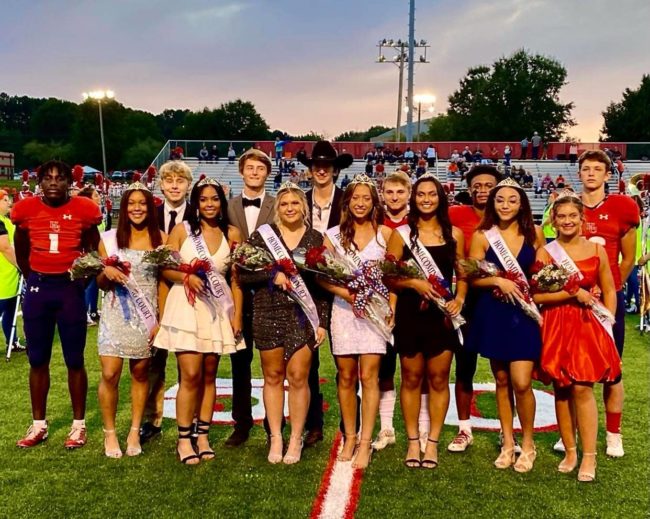 Paris, Tenn.–Before a packed Patriot Stadium Friday night, Abby Taylor was crowned as the 2021 Henry County High School Homecoming Queen.  Abby is a senior and the daughter of John and LuAnne Taylor. Her escort was Evan Bevill.
Abby was crowned by the 2020 Queen Anna Minor.
Other members of her court:
Senior Tatiana Sperber, daughter of Debbie and Justin Sperber. She was escorted by John Carter Olive.
Senior Phoebe Odom, daughter of Amy and Terry Odom. She was escorted by Connor Cox.
Junior Amya King, daughter of Crystal Tessier. She was escorted by Norma Duncan.
Junior Jasmyn Russell, daughter of Patsy and Ralph Russell. She was escorted by Riley McDevitt.
Sophomore Kennon Wilson, daughter of Jason and Traci Wilson. Her escort was Garrett Stephens.
Sophomore Noe Wilkerson, daughter of Mickie and Scott Carter. She was escorted by Evan Richardson.
Kim Patterson photo.