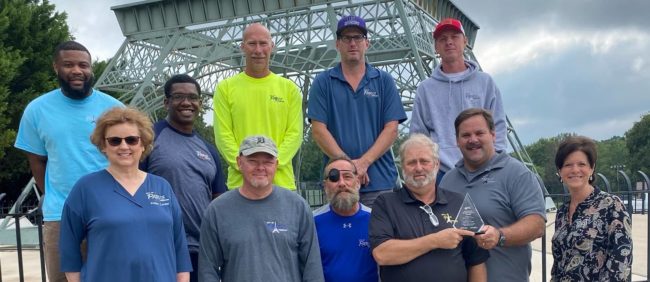 Paris, Tenn.–If you appreciate all that the city of Paris' parks have to offer–from a state-of-the-art Splash Park, Eiffel Tower replica, well-kept ball parks, fishing pond, improved basketball courts, walking trails, indoor and outdoor pools, a modern dog park and much more–you'll like this.
The city of Paris Parks and Recreation received a state award for "Excellence in Parks & Recreation" at the TML Conference in Chattanooga earlier this week.
The TML (Tennessee Municipal League) is an organization of cities across the state of Tennessee. The conference was attended by the City Commissioners and staff. While at the conference they were honored to accept the award for "Excellence in Parks and Recreation" for the City of Paris.
Upon returning, City Manager Kim Foster met with Parks Director Tony Lawrence and members of his Parks and Recreation Staff, to present them with the award. Foster thanked them for their hard work in making the city park system one that is recognized and appreciated by many. Because of the many talents and skills of those working in Parks and Rec, the City of Paris can boast one of the top organizations in the State for management, maintenance and implementation of a park system.
Foster said, "We must also recognize the City Commission and City Management for their support and dedication to providing our community and this department with the support, confidence and funding to obtain these goals."
The award this year was based on these improvements over the past few years:
• Civic Center Indoor Pool installed a de-humidifier for the Indoor Pool.
• Ogburn Park the basketball courts have a new base foundation; new goals and LED lighting for the courts; ADA sidewalk access points on each side of the courts; and new plants and sod. New lighting was added to enhance the skate park inside Ogburn Park and a Gaga pit installed as an Eagle Scout project.
• McNeill Park has a new resurfaced parking lot; new handicapped accessible restrooms; lighting; two new baseball fields; two adult softball fields and one girls' softball field. All of these include the backstops, dugouts, sod, fencing and lights.
• Atkins Porter Bark Park is now a complete park with irrigation, sun-shades, benches, sidewalks, dog wash and two misters.
• Eiffel Tower Park outdoor pool got the Triple Tower Plunge water slide; a new diving board and improvements to the deck area and changing/restrooms. A new stage with the Tower as the backdrop; handicap assessable sidewalks along with a concrete base under the tower; electrical updates to boost electricity for musical and other events; new signage added to assist all tourists; and the parking lot was repaved. A Blue Cross Blue Shield Healthy Place state-of-the-art outdoor recreational and fitness space that includes a play area, fitness station, swing set and freestanding play elements.
• Eiffel Tower Splash Park has approximately 12,000 sq. ft. of play area, two pavilions and a concession building with restrooms. The area offers zones for family, teens, youth and toddlers with aquatic play equipment plus two water safe wheelchairs are available for use.
Photo: Paris City Manager Kim Foster, right, presents the Excellence Award to Paris Parks and Recreation employees. (City of Paris photo).