By Shannon McFarlin News Director
Paris, Tenn.–"This is an amazing day for Paris and Henry County", Paris Mayor Carlton Gerrell said to the huge crowd on hand for the official opening of the Eiffel Tower Splash Park. "We not only have a Splash Pad. We have got a Splash Park!"
Gerrell outlined the steps it took for the Splash Park to become reality, from a germ of an idea to completion and lauded the importance of partnerships in making a project like this happen. "Partnerships are the key to making anything happen nowadays," he said. "This shows how much teamwork we have in this community and it shows what you can do when you have teamwork."
City Manager Kim Foster thanked "all the community partners" and highlighted the importance of the Paris Parks and Recreation Department, which performed much of the work along with the contractors. "Our Parks and Recreation Department is just awesome. I couldn't be more proud of them."
Both she and Gerrell thanked Rep. Bruce Griffey and State Sen. John Stevens for their help and Gerrell noted that an attraction like the Splash Park "drives tourism, economic development and quality of life."
Foster especially thanked the Paris BPU who she said were always there when needed. "They're wonderful, wonderful partners of the city," and she thanked the Rotary and TLM who donated the two water-friendly wheelchairs that are available at the Splash Park. "We knew from the very beginning we wanted this to be ADA accessible", she said.
The Athena Delphian group donated all the tables in use at the front pavilions, 54 Lawn and Garden donated two of the six lawn furniture sets, All-Star Fence installed the fencing, Wofford's performed landscaping and Great Southern was responsible for the water features, including the miniature Eiffel Tower with water slides.
Parks and Recreation Director Tony Lawrence applauded his staff. "Our staff is just the best you could hope for," he said. "They have skills and they care about their community."
The Splash Park features numerous water features, two pavilions, shaded seating areas, plenty of water-resistant furniture, miniature Eiffel Tower water slides.
Admission for the rest of this year is free. Next year, admission will be $2 per person and on Tuesday, Thursday and Sundays will be free. No charge for kids three and under.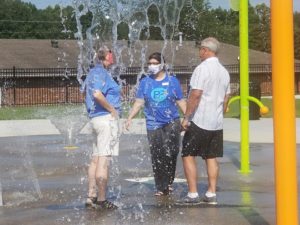 Even big kids enjoy the Splash Park: Just ask Susan Jones, Missy Hamilton and John Etheridge.
(Shannon McFarlin photos).