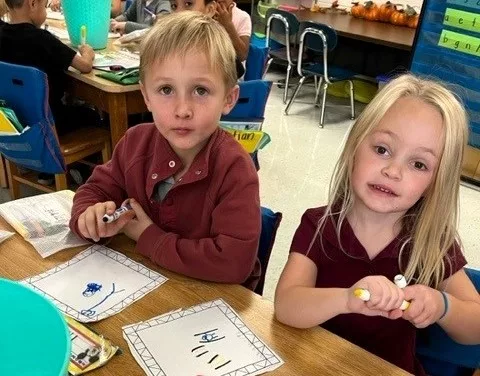 By Mike Hutchens, UC Schools Communications Director

Union City, Tenn.–Kindergarten students at Union City Elementary School indeed "pieced together" something special to celebrate World Kindness Day.
It was especially meaningful to one of their teachers.
Classes on the kindergarten level banded together to make a 'kindness quilt' to commemorate the occasion. Each student was given a square to draw a picture or write an example of how kindness can be shown to others.
Those squares were put together with those from other classes to create a giant quilt. The finished product is hanging in the kindergarten hallway.
Students received inspiration from reading "Kindness is My Superpower" by Alicia Ortego and "The Kindness Quilt" by Nancy Elizabeth Wallace. They then made a chart with ideas of things kindergarteners could do to show kindness.
The project – which was completed on World Kindness Day Monday (Nov. 13) – was especially meaningful to teacher Sara Brown. Brown was remembering her late sister, Rebecca, who passed away on that date, which was Rebecca's birthday, 31 years ago. Sara was only seven years old at that time.
"It's always a sad and emotional day for me, and I wanted to use the occasion as an opportunity to make something positive out of it," she said.
From all indications, mission accomplished.