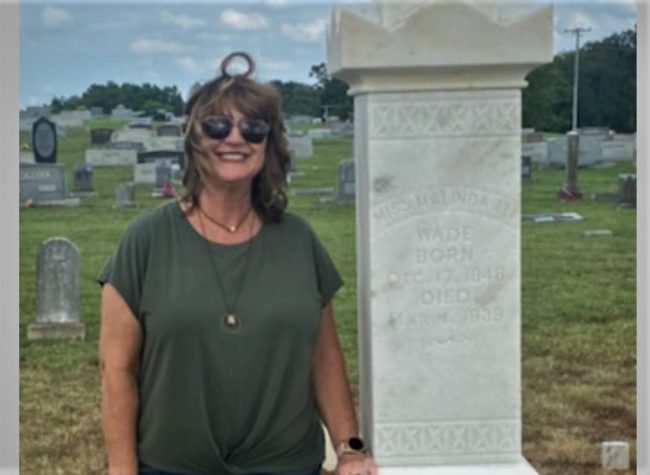 By Shannon McFarlin News Director
Paris, Tenn.–The Wade family monuments and headstones at Walker Cemetery are standing tall once again, thanks to the perseverance of descendant Tracy Loines and the talents of Class Act Gravesite Restoration.
Loines is a local history lover and has spent a lot of time researching her family over the years. She had been keeping a watchful eye on the gravemarkers at Walker Cemetery for some time, since two were over a hundred years old and three others were getting close to the century mark.
"They were leaning, had sunk tremendously and the base of one of them was crumbling," she said. She was contemplating finding out how much it would cost to have them repaired when one of her cousins, Lanny Smith, told her that one of them had fallen.
Loines said, "I was literally sick to my stomach and knew something had to be done very soon."
She contacted Susan Stewart, a member of the Henry County Cemetery Committee, who directed her to Class Act Gravesite Restoration, which has restored numerous headstones in the historic Paris City Cemetery over the years.
Loines and a few of her relatives pooled their resources and hired Brent Brauer of Class Act who has been restoring the stones to their former glory.
Brauer has been a godsend to the project, she said. "He is just unbelievable. He is so professional and extremely knowledgeable. He took these eight-foot monuments apart piece by piece, filled the holes with gravel and concrete so they would be level again and not sink and then put them back together again and cleaned them where they look brand new. As an added bonus, he found five of the foot stones that were buried and cleaned them and put them back where they belong," she said.
The tallest stones belong to Loines' 3rd Great Grandparents, Pleasant Callicott Wade and his wife Mary Robinson Wade and three of their five children: Thomas Rucker Wade, Malinda Alabama Wade and Pleasant Allen (Pled) Wade.
Loines thanked Linda Peacock, Cheryl Jurney Reagor, Amy Wade Clark and Lanny Smith for donations and dedication to the project.
She said it was worth all the days off that she worked and the homemade cinnamon rolls and sour dough bread she sold to raise money.
"Of course this has inspired me and now I am on a mission to clean all of my ancestors headstones. It's so rewarding and I encourage others to do so. You'll be glad you did because one day there probably won't be anybody that cares", Loines said.
"I truly hope it will encourage others to research their ancestry but most of all, I hope it brings notice to the importance of cemeteries in general and how they need to be taken care of for future generations."
Top photo: Tracy Loines with the gravestone for Malinda Alabama Wade, who was called Aunt Bam. Photos courtesy of Tracy Loines.