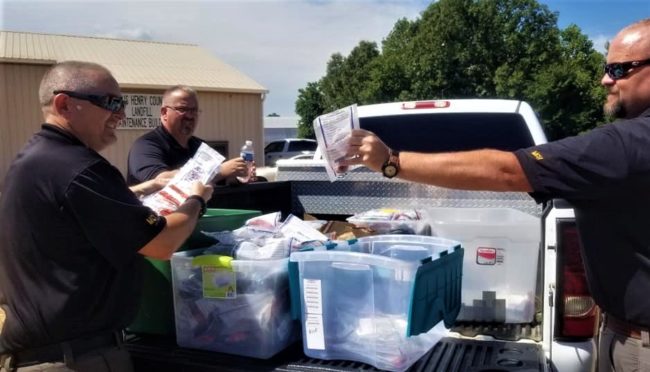 Paris, Tenn,–Numerous drugs that had been seized over the past four years, along with miscellaneous items such as artificial urine and counterfeit money, were destroyed by the Paris Police Department Wednesday morning at the Paris-Henry County Landfill.
Overseeing the procedure were Captain Jeramye Whitaker, Lt. Jamie James and Assistant Chief Ean Reed, while Assistant District Attorneys Andy Clark and Morgan Crocker looed on.
Reed said most of the seized items dated from 2020, with some as far back as 2018. "We're trying to get caught up" and make more room for seized items.
Among the items destroyed were marijuana, meth, pills, cocaine, crack cocaine, Fentanyl, heroin, and THC cartridges (and rock salt that one defendant was trying to pass off as meth).
Items were destroyed by burning and being crushed by a front-end loader at the landfill.
Photo: From left, Captain Whitaker, Assistant Chief Reed and Lt. Jamie James sort through seized items. Shannon McFarlin photo.