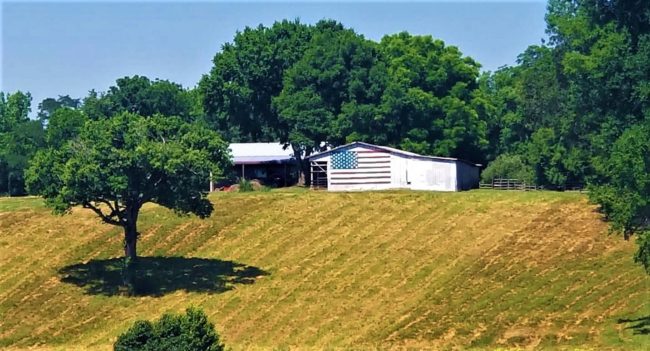 By Shannon McFarlin News Director
Paris, Tenn.–Just in time for the 4th of July. It's worth a drive down Steele Road near Henry to get a look at the newly-painted American flag on a barn owned by Lou and Bettye Carter.
Even in the heat of the past weeks, the project has been performed by Austin Dunagan and Katelyn O'Neal, with some help from Bettye and Lou.
Austin is the son of Stan and Stephanie Dunagan and a grandchild of Bettye and Lou Carter. Katelyn is the daughter of Jeremy and Lauren O'Neal.
Austin scaled the official U.S. flag dimensions and calculated the size needed for the barn. Then he and Katelyn taped it off and he made the template/stencil for the stars. This has been a project that Austin has wanted to do for a few years.
Top photo by Shannon McFarlin; bottom photos by Stan Dunagan.