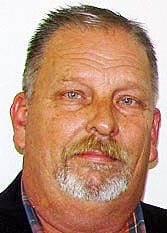 Thomas Earl "Tom" Lankford, 65 of Paris, Tennessee, died Saturday June 18, 2022, at Vanderbilt University Medical Center in Nashville, Tennessee.
He retired after 32 years from the City of Paris Police Department where he achieved the rank of captain and was head of the criminal investigation division and operations.  Tom was also a U.S. Army veteran serving as a military policeman.  He was a member of the Paris Country Club, Paris Moose Lodge, and Paris Elks Lodge.  He enjoyed playing golf, watching football, and coaching Pop Warner football.
Tom was born Thursday, March 21, 1957, in McKenzie, Tennessee, to the late Clarence Merrill Lankford and the late Claire Nell Toler Lankford.
He is survived by his daughter: April Dawn (Dwight Emerson) Adams, of Paris, Tennessee; one brother: Eddie (Dianna) Lankford, of Bentonville, Arkansas; two grandchildren: Clayton Adams and Drake Adams; three great grandchildren: Greyson Adams, Eli Adams, and Amelia Adams; two aunts: Carolyn Carter, of Mansfield, Tennessee, and Ruth Metcalf, of McKenzie, Tennessee; one niece: Cassie L. (Matt) Moore, of Austin, Minnesota; one great niece: Presley L. Moore; and one great nephew: Clayton L. Moore.
Arrangements are being handled by Ridgeway Funeral Home, 201 Dunlap St/PO Box 788, Paris, Tennessee, 38242.  A celebration of life will be held Thursday, June 30, 2022, at 2:00 p.m. at Ridgeway Funeral Home in Paris, Tennessee.
Named as honorary pallbearers are Gerald Boyd, Blake Chandler, Chuck Elizondo, Ricky Watson, Josh Frey, Tony Hutcherson, Jerry Pearson, and Stacy Garner.