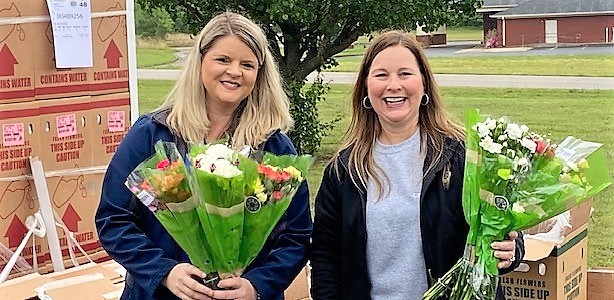 Huntingdon, Tenn.–More than 50 volunteers came together recently to hold a Mobile Pantry at the Carroll County Library in Huntingdon, in partnership with Second Harvest Food Bank of Middle Tennessee.  Sponsored by Centennial Bank of Carroll County, the event provided 16,000 pounds of fresh produce and shelf stable goods to more than 275 local families. Each household also received bouquets of fresh flowers to share with loved ones for Mother's Day.
"There is a lot more hunger in our community than you realize," said Grace Hawkins, Children's Librarian at the Carroll County Library. "You don't know what all people are going through. Even a little can make a big difference and go a long way for some."
With 1 in 6 people at risk of hunger – including 1 in 5 children – in Carroll County according to Feeding America, food distributions like Second Harvest Mobile Pantries serve as a vital food resource for the community. Those in need of food assistance simply pull up in their vehicle and volunteers place up to two weeks' worth of groceries in their trunk. 
"It was a wonderful experience to be able to help others," said Hawkins. "We were so blessed with the number of volunteers that came to help."
To learn more or get involved with Second Harvest, visit secondharvestmidtn.org, or call the Second Harvest Food Bank/Ray Smith Distribution Center at 731-213-5075. Those in need of assistance can use Second Harvest's Find Food tool to find the nearest distribution at secondharvestmidtn.org/get-help.   
Photo: CEO/President of Centennial Bank Andrea Browning, on right, and Angie Wilson hand out bouquets of donated flowers during the Second Harvest Mobile Pantry.