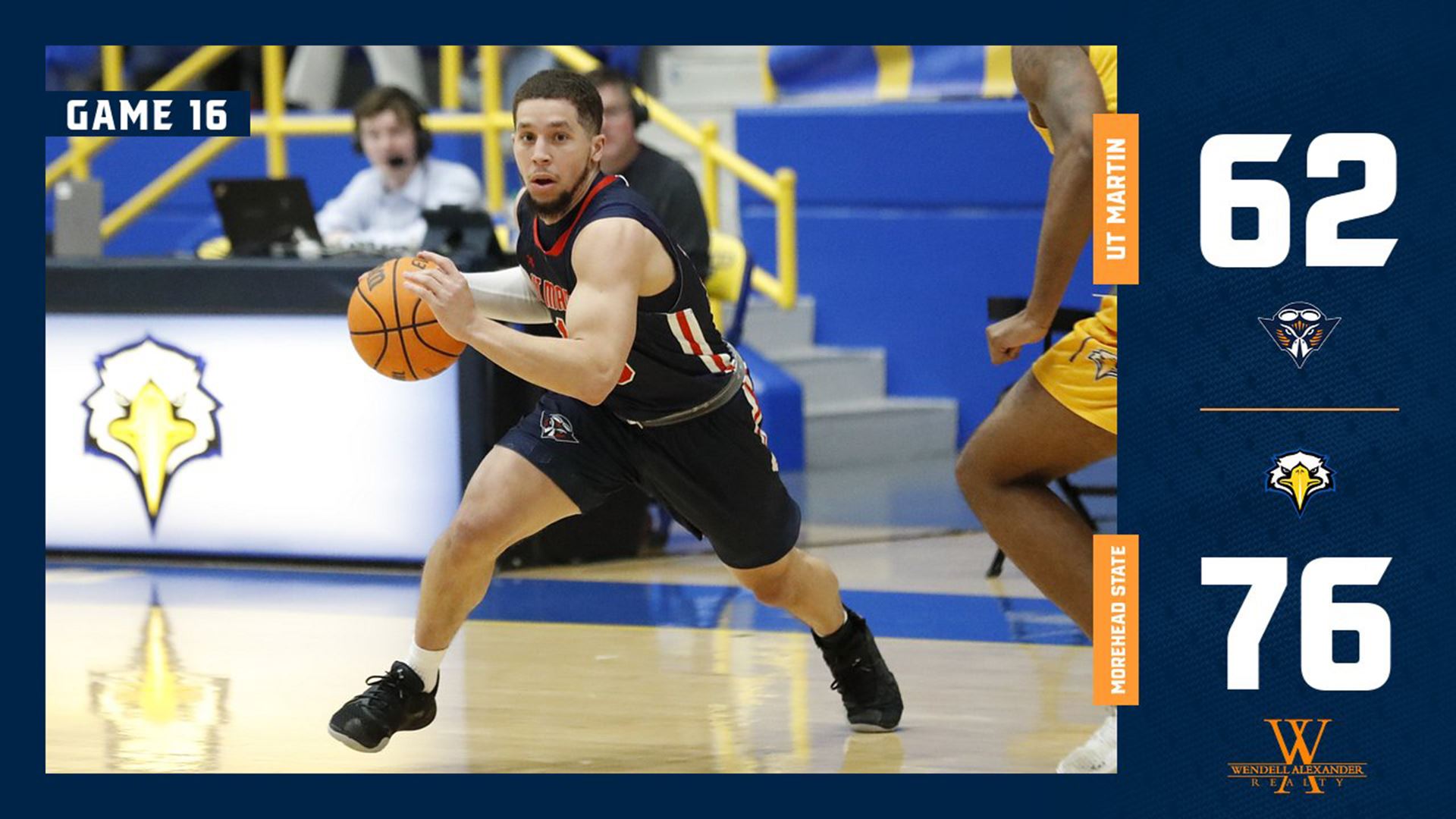 By Ryne Rickman, UT Martin Sports Information Director
MOREHEAD, Ky. – It was a tale of two halves for the University of Tennessee at Martin men's basketball team this evening as a strong final 20 minutes by the host Morehead State Eagles resulted in a 76-62 Skyhawk setback at Ellis T. Johnson Arena.
UT Martin led for 13:39 of the first half before Morehead State charged back to take a 31-28 lead at the halftime break. In the second half, the Eagles shot 60.9 percent (14-of-23) – including 6-for-8 from three-point range – on the way to their 15th consecutive home win.
Darius Simmons piled up all of his team-high 12 points in the final 20 minutes for the Skyhawks (6-10, 2-2 Ohio Valley Conference), who also received 11 points out of KJ Simon. Koby Jeffries (nine points, career-best six steals, three assists and two rebounds) and Bernie Andre (eight points, team-best six rebounds) nearly scored in double figures while Mikel Henderson and Chris Nix posted seven points apiece.
Morehead State (11-5, 3-0 OVC) was led by Johni Broome's 20 points, 15 rebounds and five blocks. Ta'Lon Cooper (18 points), Skyelar Potter (10) and Jaylen Sebree (10) additionally guided the Eagles, who were forced into 19 turnovers but won the battle on the glass by a 41-32 margin.
"Give Morehead State all kinds of credit," UT Martin head coach Ryan Ridder said. "They frustrated us all night and were tougher. If you want to go win on the road, you have to play really well and I just thought that in all facets of the game they were better than us tonight."
A big start from Simon helped the Skyhawks get off on the right foot. The 6-3, 200-pound guard accumulated eight consecutive points as UT Martin raced out to a 10-3 advantage a little over four minutes into the game.
Six different Skyhawks alternated points over an 8:16 stretch as UT Martin maintained its lead. After a Jeffries three-pointer with 6:38 remaining before the intermission, the Eagles went on a 7-1 run to take their first lead since the opening bucket of the game.
Nix converted a layup and Andre canned a three-pointer on back-to-back possessions to tilt the score back in favor of the Skyhawks (28-25) at the 2:35 mark of the first half. However, Morehead State compiled six unanswered points to claim its aforementioned three-point halftime advantage.
Simon was responsible for a game-high 10 points while Broome's eight points and 10 rebounds topped the Eagles.
A free throw from Nix was the first points for either side in the second half, whittling UT Martin's deficit to 31-29. Morehead State answered with a 21-4 surge but the Skyhawks didn't quit – quickly striking for a 7-0 run during a 52-second span. A pair of Jeffries layups were sandwiched around a Simmons trifecta to help UT Martin get back within a dozen points (52-40) at the under-12 media timeout.
However, the Eagles accounted for 11 of the next 13 points and the Skyhawks wouldn't get any closer than 14 points the rest of the way. Simmons went on a scoring spree during the final 3:04, earning all of UT Martin's final seven points of the game.
The Skyhawks are back at the Kathleen and Tom Elam Center for four of their next five contests, starting with a Saturday, Jan. 15 outing against Tennessee Tech. Tipoff is set for 3:30 p.m. (following the women's game which begins at 1 p.m.).
Graphic courtesy of UT Martin Sports Information