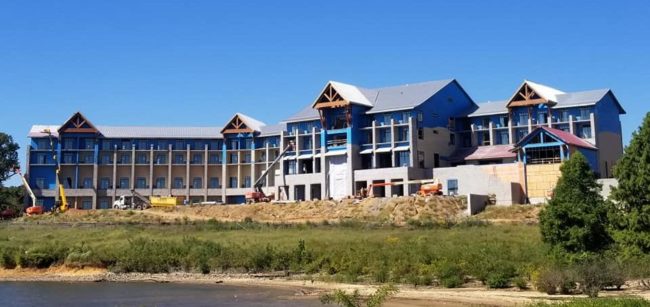 Buchanan, Tenn.–As of last week, construction of The Lodge at Paris Landing is 76 percent complete, with completion of the project anticipated in late Fall.
David Roberson, Communications Director for the Tennessee Department of General Services, told RadioNWTN, "Key efforts at this time are concentrated on roofing, window installation, and exterior masonry. Additional work for interior drywall and paint on all levels continues."
Roberson said, "Installation is beginning on guestroom bathroom fixtures, millwork, tile and kitchen equipment. Ordering of furniture, fixtures, and equipment is 97% completed. The project was approximately 76% complete as of last week, with an anticipated construction completion in the late fall of 2021."
Photo by Shannon McFarlin.