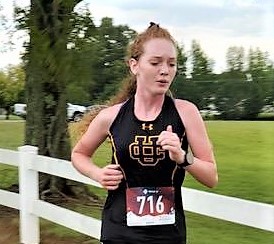 By Mike Hutchens, UC Schools Communications Director
Union City, Tenn.–Union City's two golf teams won matches for the second straight day Tuesday as they continued to gear up for postseason play next week.
Playing at the Fulton County Club, the Lady Tornadoes shot a team total of 93 to beat Gibson County (104) and host South Fulton (114).
Sophomore Mimi Jenkins continued her strong play, finishing as the match medalist with a 44. Both Molly Kizer and Alli Kate Frilling shot 49s, and Olivia Tanner came in with a 57.
The UC boys (172) got steady play up and down its lineup to outdistance GC (180) and SF (181).
Cameron Thompson and Nolan Chandler each carded 42s for the Tornadoes. Reese Paschall was a stroke behind at 43, and Landon Hauhe shot 45. Carter Watts finished with a 53.
Union City will begin District 13A Tournament play at Persimmon Hills in Sharon next week, the boys playing Monday and the girls on Tuesday.
HIGH SCHOOL CROSS COUNTRY
UC trio finishes in Top 10
Freshman Kennedi Robinson (22:24) placed sixth and Bailey Wagoner (23:11) was 10th in the Huntingdon Invitational Tuesday.
Cedrion Cook (18:11) was the top Union City finisher on the boys' side, coming in seventh.
Other finishers for the Lady Tornadoes included Lizzy Jones (26:40), Daisy Sanchez (28:54), Lennon Bing (31:31), Myranda Parr (33:13) and Hannah Moon (34:08).
Following Cook in the UC boys' line of finishers were Cameron McLendon (22:29), Cole Suiter (22:35), Brendan Meade (25:25), Kajaylon Bell (30:57) and Sam Rodriguez (32:01).
Union City will compete in the Cross Paths Invitational at Cordova on Saturday.
HIGH SCHOOL VOLLEYBALL
Halls 3, UC 0
Union City fell in straight sets on the road to a Lady Tiger program that has made the state tournament the last four seasons.
Halls won 25-18, 25-17 and 25-14 to drop the Tornado girls to 6-5 overall, 6-3 in the district.
Its own mistakes haunted UC as it committed 47 errors in the match.
Raegan Taylor had seven saves, six assists and four digs, while Anna Cheatham finished with 10 kills and six digs.
Emma Powell was credited with six assists.
Union City will be at home Thursday, hosting Westview.