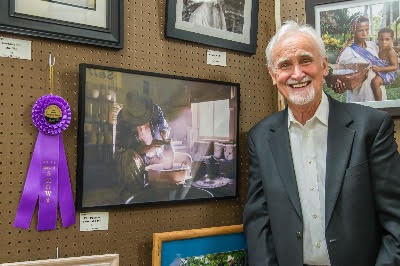 Paris, Tenn.–Winners of the 2021 Photography Showcase sponsored by the Paris-Henry County Arts Council were announced at a reception held over the weekend.
This is the 29th annual Photography Showcase and is sponsored also by Dr. and Mrs. Danny Kimberlin. Called "Captured Moments: A Photography Show", the showcase will be on display at the W.G. Rhea Library through May. There were some 125 entries this year.
Winner of Best of Show was Fulton Pritchett, with the photograph, "The Potter's Trusted Love". Pritchett is the grandson of Martin Paschall of Paris, who has been a local potter for years.
BEST OF SHOW
Fulton Pritchett, The Potter's Trusted Love
ALTERED IMAGE:
1. Michael Grace, Night Streaks
2. Lucas Claxton, Colliding Worlds
3. Kim Umsteht, Orange Spill
ARCHITECTURAL
1. Judith Putnam, Skyscraper
2. Fulton Pritchett, Eye on the Pacific
3. Story Smith, Under the Boardwalk
BEGINNER
1. Uriah Smith, The Lone Sunflower
2. Imogene Willman, Place of Solitude
3. Andrew Johnson, Remember the Fallen
BLACK & WHITE
1. Emilie Sheppard, Dignified
2. Laura Sherrod, Broken
3. Laura Sherrod, Vista at Elkhorn
DOWNTOWN PARIS
1. Mary Ann Claxton, Mayor McNeill has left the Cemetery
2. Sam Hutson, Downtown Aerial
3. no entry
MOBILE
1. Rick Conger, Ruffin' It
2. Donna Reasons, Reflection
3. Becky Rutledge, Lights, Camera, Action
NATURAL WORLD
1. Mary Ann Claxton, Charlotte's Crown Jewls
2. Brandon Blankenship, It's About Down Time, Reelfoot
3. Teresa Towley, Eye of the Tiger Lily
PEOPLE
1. Emilie Sheppard, Home is Where My Heart Is
2. Debbie McDorman, Looking for the Tip
3. Michael Grace, Painted Lady
TRAVEL
1. Mary Lodge, Pisa's Tower
2. John Van Dyck, Ceremonial Dancers, Papua New Guinea
3. Mary Lodge, Paddling Along
YOUTH
1. John Sage, I'll Be There In A Minute
2. John Sage, One Small Step