Paris, Tenn.–Henry Countians won't have to go far this summer to see renowned Professional Bullrider Cody Nance of Puryear in a Professional Bull Riding event.
The Henry County Tourism Authority this morning approved the PBR event which will provide 'action-packed bullriding' over two nights July 2-3 at the Henry County Fairgrounds.
Nance is an award-winning professional bullrider and he, as well as 35-45 other top bullriders from across the U.S. will compete in the event.
At a press conference directly after the Tourism Authority meeting this morning, Henry County Mayor John Penn Ridgeway said, "We're really excited about this day."
Nance attended the press conference with his wife, Korie, and Cody, too, spoke of how happy and excited he is to be producing the event in his home county.
Paris-Henry County Chamber CEO Travis McLeese said he and other Chamber officials have been working to make the event a reality for several months. He said organizers are watching the ongoing COVID pandemic statistics closely to make the best decisions for the community. He said it is hoped the event will be able to include food trucks, vendors, fireworks and a concert.
On Nance's application to the Tourism Authority for the event, due to the ongoing COVID pandemic, an audience of 2,500 are expected to able to attend each night (or 75 percent of the capacity of the venue). Prices are to be determined, based on COVID restructions and seating capacity, but Nance estimated VIP prices will be a maximum of $40 and general admission will be $15.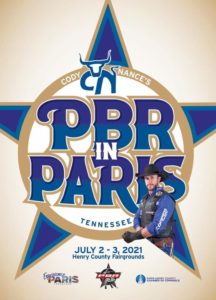 Photos by Lance Pierce and Chamber.