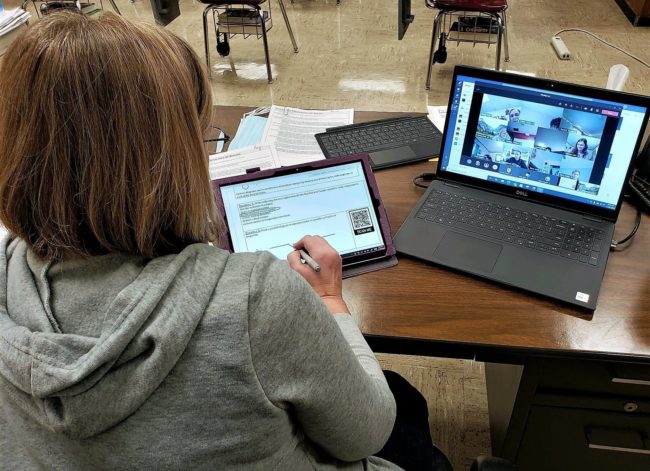 By Mike Hutchens, UC Schools Communications Director
Union City, Tenn.–No Excuses.
Challenged to continue their longstanding commitment to academic excellence, both faculty and students have relied on the official motto of Union City Schools in their most recent obstacle of dealing with the COVID-19 pandemic.
The first full week of true Distance Learning for the 1,600 students on three UC campuses saw all parties continue to not only succeed but also excel in non-traditional settings.
Students at both Union City High School and Middle School were required to log into each class period and receive "live" instruction on their TEAMS program. They were responsible for both daily assignments and testing, and "changed classes" when the regular bell schedule was kept throughout each day.
Those without dependable home Internet service were allowed to come to campus and use the school's connection for their daily class responsibilities.
UCES students learned via a blended plan, combining TEAMS and assignment packets either previously sent home with students or picked up by parents.
The virtual learning plan will continue Monday and Tuesday of next week.
Principals at each of the three schools raved about both their teaching staff and the efforts of their respective student bodies when it came to adjusting to something new and successfully focusing on the business of education.
"It's definitely been a success and I can't tell you how proud I am of both our faculty and our students," UC High School Principal Jacob Cross said. "From a technology standpoint, we were able to handle everything we needed to and had no issues. And I'd say 95 percent of our students were logged in everywhere they needed to be every day.
"I think everyone involved has really liked this Distance Learning model and you can see that in their effort and commitment. It's not only proven to be effective, and it also allows students' parents to see what happens in our classes. Our teachers have worked harder than they've ever worked before — not only with what people can see, but behind the scenes."
UC Middle School Principal Lance Morgan had similar words of praise for his teachers and students.
"Every day I catch myself smiling at how well our people have adapted to the challenges they've been presented with," Morgan said. "It's amazing, really. Our staff hasn't lowered their expectations and has continued to teach with great enthusiasm and purpose. And our students have been attentive, responsible and continue to be eager to learn and be taught.
"I do believe you learn a lot about people in the face of adversity. And what I've learned during this time is that we have wonderfully motivated people who bring their best every day to Union City Middle School."
Union City Elementary School Principal David Byars made it unanimous when he lauded the work of those who make up his campus.
"On a regular basis, I'm asked by one of our teachers 'What do you need me to do and what can I do better?'" Byars said. "Our people have had to do a lot of things they've not ever done before and they've done them all exceptionally well and with a great attitude.
"Teachers have loved on their kids from afar, they've taught them the curriculum and they've supported each other in every endeavor. And our students have worked hard in a very different and unique environment for most of them. I know they're eager to get back to in-person learning and that they miss their teachers just as much as our teachers miss them."
Much of the UCES staff also has spent time extensively cleaning and sanitizing their classrooms.
Union City Director of Schools Wes Kennedy will make a decision early next week in regard to the schedule for students' return following the Thanksgiving Break on Nov. 30.