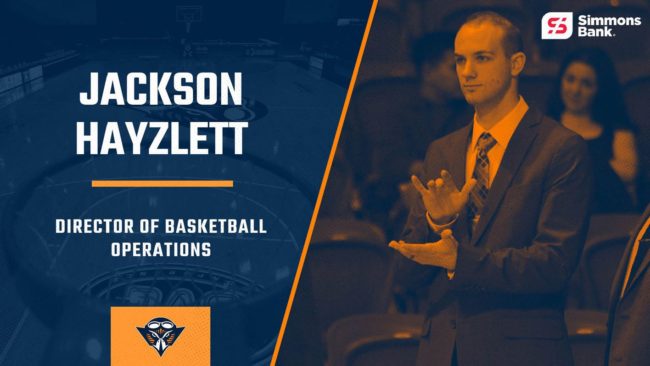 MARTIN, Tenn. – Year Two of Jackson Hayzlett's tenure on the University of Tennessee at Martin men's basketball staff comes with a new title as the Wapakoneta, Ohio native will serve as the director of basketball operations for the upcoming 2020-21 season.
Hayzlett's new role includes overseeing day-to-day operations of the Skyhawk men's basketball program, managing all team travel and serving as the program's liaison with opposing teams.
Last season, Hayzlett was UT Martin's video coordinator and director of analytics, coordinating film exchange while deriving statistical data from all aspects of on-court performance. He was a part of the Skyhawk program that produced a pair of All-Ohio Valley Conference honorees and eight OVC player of the week mentions.
Before coming to UT Martin, Hayzlett was a volunteer statistical analyst consultant at North Carolina State University for two seasons. He has also worked as a remote video analyst for the NBA's Phoenix Suns.
Hayzlett graduated from Bowling Green State University with a degree in mathematics education in 2014 and later obtained his Master's degree in statistics from North Carolina State in 2019. He and his wife Kendall reside in Martin and are expecting their first child in November.