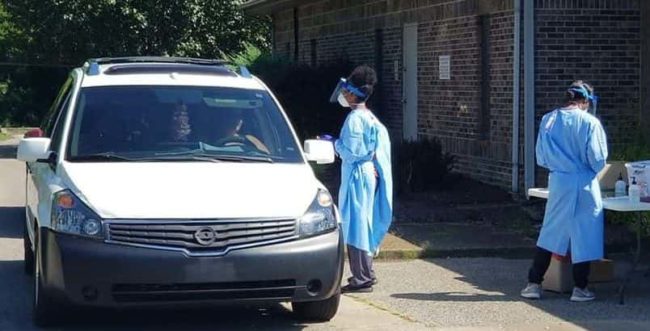 Paris, Tenn.–The Henry County Health Department is a busy place in the mornings as COVID-19 testing is conducted every day, Monday through Friday, from 8:30 to 10:30 a.m. The testing is conducted outside the health department in a drive-through procedures and is by appointment.
Testing has been busy as Henry County's positive case totals have continued to significantly increase over the past couple of weeks. As of 3 p.m. Sunday, the State Health Department reported Henry County has 193 active cases, with 288 total.
Anyone receiving the testing stays in their car while swabs are collected. Anyone who wishes to be tested for COVID-19 should call the health department clinic at 731-642-4025 to make an appointment for testing. Testing is free.
The Henry County Health Department is located at 803 Joy Street in Paris.
Health department nurses will collect nasal swabs to send to the lab for your COVID-19 test.
You do not have to live in Henry County to be tested at the health department. Those who
come for testing should be prepared to isolate themselves at home while awaiting their test
results, and will be given information on what to expect after their test. This information is also
available online at www.tn.gov/content/dam/tn/health/documents/cedep/novelcoronavirus/TestedGuidance.pdf.
Photo by Shannon McFarlin