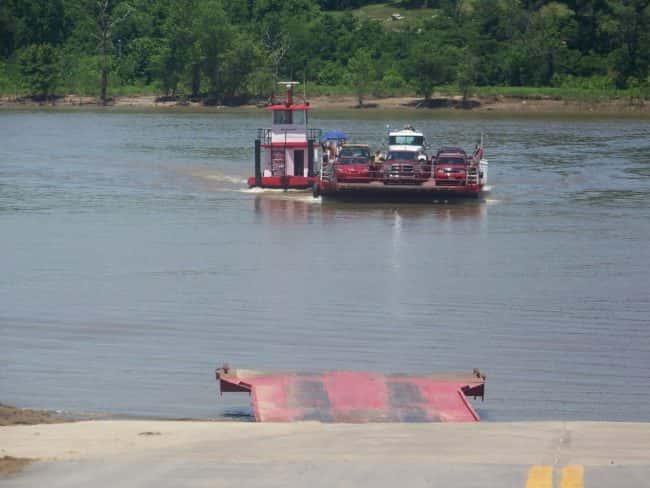 CAVE-IN-ROCK, IL. (June 30, 2020) — Citing a contract impasse, Cave-in-Rock Ferry operator Lonnie Lewis has provided notice that he intends to indefinitely halt service at 10 p.m., tonight, when the current 2-year contract to fund the ferry operation expires.
Crittenden County Judge-Executive Perry Newcom submitted some additional options this morning aimed at breaking the contract stalemate. Lewis informed Newcom that he would not continue to operate unless he had a signed, 2-year contract to assure long-term funding of the ferry.
After the last run tonight, the Cave-in-Rock Ferry is expected to remain closed until further notice.
The Cave-In-Rock Ferry is jointly funded by the Kentucky Transportation Cabinet and Illinois Department of Transportation through the Ohio River Ferry Authority.
Closure of the ferry means dozens of daily commuters will face up to an extra 75 minutes of driving time for a trip from Cave-in-Rock to Marion, KY, via the Shawneetown Bridge.
The Cave-in-Rock Ferry normally carries about 500 vehicles across the Ohio River in an average day. That number can more than triple during heavy travel weekends like the approaching July 4th Holiday.
The Cave-in-Rock Ferry connects KY 91 with ILLINOIS Route 1 across the Ohio River between Crittenden County, KY, and Hardin County, IL.
The ferry normally operates from 6:00 a.m. to 10:00 p.m. central time, 7 days a week. The last ferry run each day departs the Illinois landing at 9:40 p.m. The last run from the Kentucky landing is at 9:50 p.m., daily.
The Cave-In-Rock Ferry is at Ohio River navigation mile point 881.0.
For more information on the Ferry go to www.facebook.com/CIRFerry.