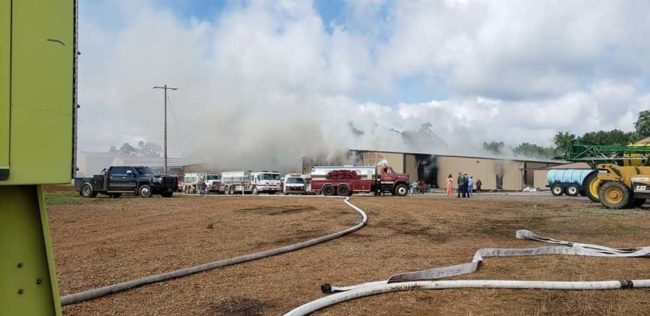 Calloway County, Ky.–Three Kentucky fire departments worked 10 1/2 hours to quell a five-alarm fire at a hemp warehouse in Calloway County last week.
Upon arrival of the first unit, Calloway County Fire & Rescue could see heavy smoke coming from the structure.
Due to the large size of the building and other near by structures, Calloway County called for mutual aid from Cuba Fire Department and Farmington Fire Department out of Graves County.
CCFR responded with 28 firefighters and 16 trucks. Cuba responded with 8 firefighters and 3 trucks. Farmington responded with 5 firefighters and 1 truck. CCFR has extended its thanks to both Graves County departments along with the area farmers that assisted in various ways.