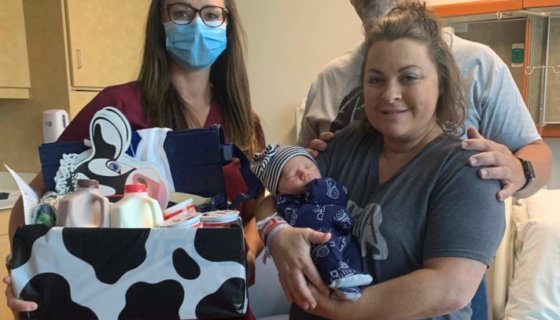 Paris, Tenn.–Cy Oakley Wayne Taylor was the first baby to be born in June at Henry County Medical Center. Since 1939, June has been celebrated as National Dairy Month. Tennessee is home to 205 dairy farms and 8 are right in Henry County. Henry County dairy farmers have started a new initiative: to donate a dairy-themed gift basket to the first baby born in June.
One basket was presented to the family by dairy farmer representatives, Angie Leach and Sarah Moss as well as Dairy Ambassador, Christian Hawbaker. Dairy-based products including milk were given to the family.  Henry County's dairy farmers and the Dairy Alliance created and donated the basket presented to the family.
"We want people to drink and eat dairy in celebration of Dairy Month," says Moss.
Baby Taylor was born at the HCMC Women's Center. For more information about HCMC Women's Center, call us at 731-644-8510 or find us online at www.hcmcn- tn.org.
Top photo: From left, Brandi Parham, presenting the Dairy Gift Basket to the first baby of June, Cy Oakley Wayne Taylor and family, mom Miranda Taylor and dad Marty Taylor.
Bottom photo: From left, Sarah Moss, Brandi Parham, Christian Hawbaker, Christian Clifton, and Angie Leach.  Moss, Hawbaker, and Clifton presenting the OB Nurses with the Dairy Month Gift Basket to present to the first baby of June in honor of National Dairy Month.