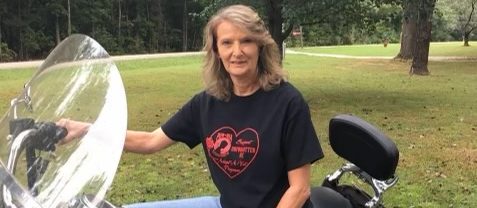 Pamela Jean Button, 62, of Paris, died Monday, September 4, 2023, at her residence.
Pamela was born Tuesday, September 20, 1960, in Paris, Tennessee, to the late Howard Earl Button and the late Charlotte Ann Jackson Button.
She worked at Nobel Automotive in Paris for several years.  Pamela enjoyed riding motorcycles, swimming in their pool, and spending time with her grandchildren and family.  She was a member of Fairview Baptist Church.
She is survived by one daughter: Morgan (Aaron) Stanley, of Paris; one son: Corey (Krista) Bailey, of Paris; one sister: Jessica Beaver, of Paris; two brothers: Howard Button, Jr., of Paris, and Mike Button, of Paris; one grandchild: Jedd Bailey, and one grandchild on-the-way: Lincoln Bailey; and life partner: Billy "Jacky" Boyd. of Paris.
Arrangements are being handled by Ridgeway Funeral Home, 201 Dunlap Street/PO Box 788, Paris, Tennessee, 38242.
Visitation will be Friday, September 8, 2023, from 3:00 pm – 5:00 pm at Ridgeway Funeral Home, with the funeral service beginning at 5:00 pm at Ridgeway Funeral Home with Jon Roberts officiating.
Cremation will follow the service.