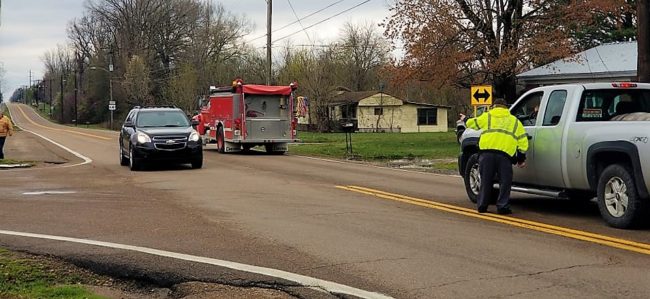 Paris, Tenn.–Henry County Sheriff Josh Frey has announced that Hwy. 641N is now open.
The highway has been closed most of the day following a serious accident Friday morning. A collision between a semi and a logging truck carrying a full load of logs near Puryear blocked the highway both ways.
Traffic was routed around the wreck onto Foundry Hill Rd. One of the vehicle occupants was trapped for a considerable amount of time and a helicopter was called to transport him to an area hospital. A Level 1 trauma was declared.
The wreck is under investigation by the Tennessee Highway Patrol.
We will publish an update on the accident when the THP releases the report.
Photo: Law enforcement directing traffic in Puryear Friday morning. Shannon McFarlin photo.