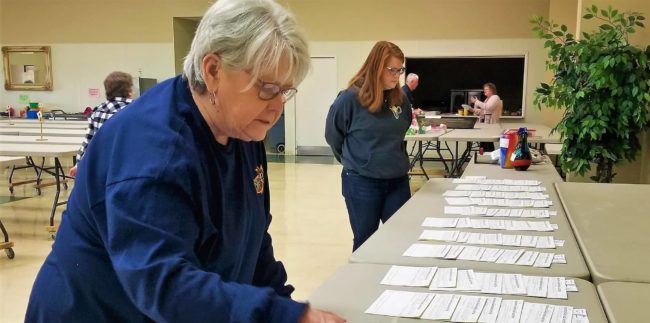 By Shannon McFarlin News Director
Paris, Tenn.–The record-breaking year continues for the Henry County Helping Hand Radio Auction, which has now reached $151,835 raised so far this year.
Today was a big day at Helping Hand, with the Cottage Grove and Center communities and Interrail Signal raising a whopping $20,004. A total of 13 slates of good homemade items were on the auction block today, plus a sizeable donation from an anonymous donor.
Auctioneer was Jamie Orr, with members of the Kiwanis manning the phones.
Wednesday, January 25, is a bank day, with donations coming from Commercial Bank, Carroll Bank & Trust, Foundation Bank, Regions Bank and First Bank. On Thursday, items will be donated by Harrelson Beta Club, the Puryear community, Nothwest Nutrition and the Office on Aging.
On Friday, items will be donated by the Clifty community, Rescue Squad, Relay for Life, Henry County CASA. And Saturday will be Whitlock community day.
You can listen to all the action on our stations at 104.7FM or 1000AM (WHNY "Big Henry") or you can listen on our website at www.radionnwtn.com. You can bid over the phone or in person at the Paris Convention Center.
Donated items can be seen daily on the Henry County Helping Hand Facebook page and website.
Drop off items and the Paris Convention Center between 7-9 p.m. The auction starts at 12:30 p.m. daily and noon on Satudays. To bid, call 644 1695. Office phone is 644-1833.
Photo: Volunteers Susan Hayes (foreground) and Mary Kate Paschall organize the slates for today's auction. Shannon McFarlin photo.