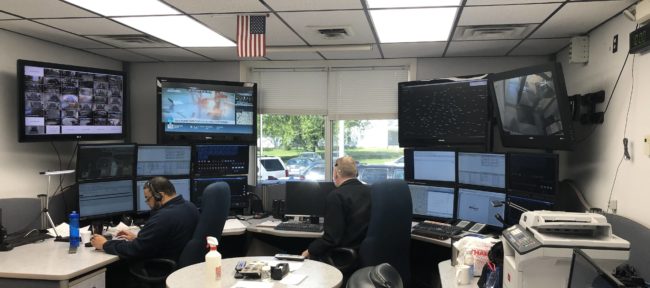 Paris, Tenn.–The Henry County Emergency Management Agency has announced the availability of a new mobile
alert system for the citizens of Henry County. The system is called DR Messenger and is part of Capsol, Inc., an
emergency notification based company.
911 Director Mark Archer and Henry County Emergency Management have worked with Capsol, Inc. to create a product that can provide fast alerting for potential severe and damaging weather along with other local information such as road closures, local law enforcement safety information, and other community based alerts the public and local first responders will benefit from. There is no registration and the service is free to the public.
Emergency Management director Ron Watkins said, "We have been searching for over a year for an affordable
community alert product that is not reliant on text messaging and does not collect any user data for delivery of
emergency alerts. Because of recent cyber security threats across the country and anti spam measures put in
place by cellular carriers , mass text messaging has seen a slow down on alerts being delivered. This system app
works by using internet connectivity either through your cell phone carrier or a wifi connection which gives two
paths for delivery instead of relying on a cell tower alone. We understand some persons may not use a smart
phone capable of installing applications, however, we feel this system may be more reliable in emergency
situations."
The alert system operates using Instant Message Alerting technology through the Distributed Recipient Messenger
smart phone application. The application is available for download on Apple App Store or Google Play. Citizens
can download the app by search or by scanning the QR code provided. Once the application has been downloaded
users should input the code, HCA, to add Henry County mobile alerts. The DR Messenger app
does not collect any personal data from your phone, including phone numbers. Robocalling or
spam calls due to this app will never be an issue.
The system will alert users to National Weather Service weather warnings, watches, current
event alerts, and custom alerts sent by the National Weather Service and local emergency
officials. Emergency Management and law enforcement agencies will be able to send out
customized local alerts based on current incidents in the county if needed. The alert system
will be capable of sending 1000 notifications per second.
Henry County Emergency Management will be reaching out to persons who signed up for the former county text
alert system to consider downloading the new app for Henry County Alerts. The former system will not be
operational moving forward. As always, Henry County EMA recommends using more than one way to receive
emergency alerts. If you have any questions, please contact Henry County Emergency Management office at
731-644-2678.