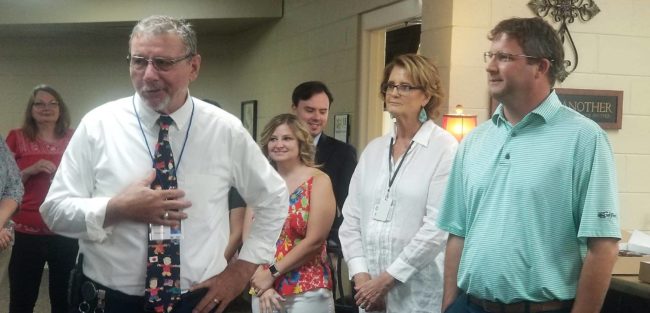 Paris, Tenn.–REAL Hope Youth Center Director Carl Anderson, left, addresses the large crowd that gathered for Thursday's ribbon-cutting at its new location at the First Baptist Church in Paris. Looking on at right is the new Paris-Henry County Chamber President Justin Oliver.
Anderson said the REAL Hope center has been located at the Central Services building on Jones Bend Rd. since 2010, but they needed someplace more secure that would allow them to be certified and provide services for youth and their families year-round.
Long-range, the REAL Hope center plans to build a permanent home on property at the corner of India Rd. and Peppers Drive, he said. Locating temporarily at First Baptist "is a critical part of that step", Anderson said.
Anderson said, "We're so thankful to First Baptist Church and Rev. Trent Bullock for open up their doors for us."