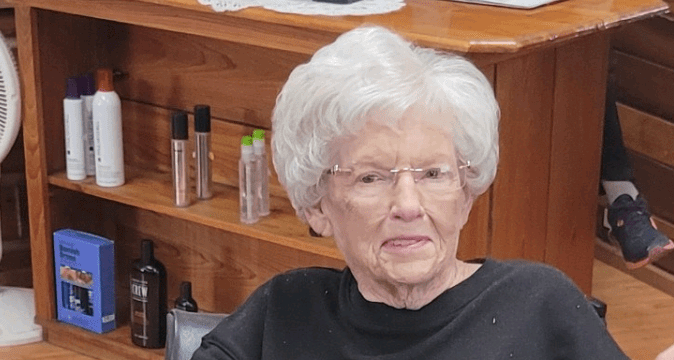 Mrs. Annette Hare, 87, of Indian Mound, Tennessee, passed away on Friday, July 15, 2022, at her residence with her loving family by her side.
She was born Tuesday, April 23, 1935m in Perry County, Indiana, the beloved daughter of the late Jesse and Roxie Fleming.
She lived in Newburgh, Indiana, until moving to Indian Mound, Tennessee, in 1977 after marrying her true love and soulmate: Bobbie 'Ed' Hare. She was a retired self-employed accountant. She attended the Indian Mound United Methodist Church.
In addition to her parents, she is preceded in death by her loving husband: Bobbie 'Ed' Hare; daughter: Barbara Hall; brothers: Meredith Fleming, Maurice Fleming, and Thomas Fleming; sisters: Pat Rose and Jean Hogan.
She is survived by her daughter: Sharron Robertson (Jerry) and son: Randy Odom, of Indian Mound, Tennessee; grandsons: Nathan Hall, of Apex, North Carolina, Duane Odom, of Clarksville, Tennessee and Christopher Odom, of Evansville, Indiana; great grandchildren: Natalie Wilcher (Jonathan),of  Clarksville, Tennessee, Madison Hall, ofAuburndale, Florida, and Vincent Carola-Hall, Apex, of North Carolina ; great-great grandchildren: Kameryn Weaver, of Clarksville, Tennessee, Jocelynn Wilcher, of Clarksville, Tennessee, Memphis Chaney, of Auburndale, Florida, as well as several nieces and nephews.
A memorial service will be at 12:00 p.m. Friday, August 5, 2022, at Anglin Funeral Home with Bro. Garrette Milliken officiating. Burial will follow at 2:00 p.m. at the Kentucky Veterans Cemetery West, Hopkinsville, Kentucky.
Arrangements are entrusted to Anglin Funeral Home, Dover, Tennessee, and online condolences may be made at anglinfuneralhome.com