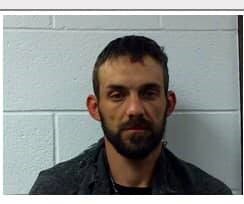 Dover, Tenn.–A trail of stolen diesel fuel led Stewart County Sheriff's deputies right to the culprit.
On Monday morning June 20th, the Stewart County Sheriff's Office received a report that sometime during the night someone had stolen a large amount of diesel fuel from a dozer and other excavating equipment from a work site off of Freeman Fielder Road.
Sheriff Frankie Gray said when Deputy Charles Fisher arrived at the scene he and the owner observed a trail of fuel leading from the construction site to the roadway.
Deputy Fisher, along with Deputy Josh Miller and Sheriff Gray, followed the trail of diesel fuel down the roadway approximately two miles up a driveway and across the yard to the rear of a building, where they found a trailer with a barrel of diesel fuel in it.
The trailer appeared to have been pulled by a 4-wheeler. The red dye in the off-road diesel fuel that was stolen made the  trail even easier to follow.
Once at the residence the Deputies and Sheriff eventually made contact with the person inside and found that the man living there had warrants out of Houston County. Once arrested the man was also found to have marijuana as well as meth and assorted drug paraphernalia in his possession.
Arrested was Aaron O'Neal, age 34, of Tennessee Ridge.