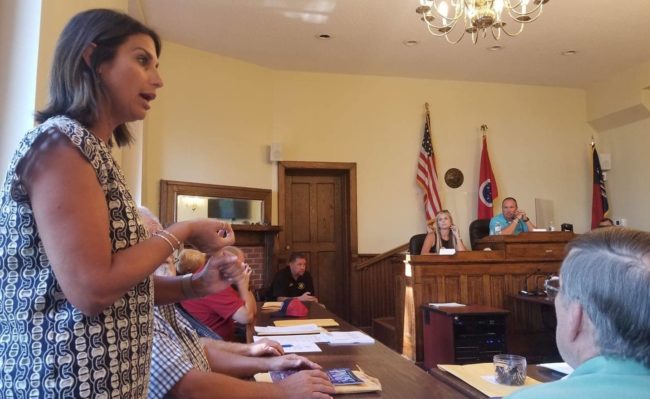 By Shannon McFarlin News Director
Paris, Tenn.–Ribbon-cutting for the new Lodge at Paris Landing has been set for 3 p.m. Monday, June 27.
Henry County Mayor John Penn Ridgeway announced the date for the ribbon-cutting at Monday night's meeting of the Henry County Commission, with a number of state and local officials set to be in attendance.
As we reported earlier, the Lodge at Paris Landing has started taking room reservations for the new 91-room facility and the restaurant has been open for several weeks. The Lodge is located on Kentucky Lake and each room has a scenic water view.
After much discussion, Commissioners unanimously approved an agreement with local municipalities under which the Henry County Trustees' office will collect property taxes for the cities of Paris, Henry, Puryear and Cottage Grove. County Trustee Randi French said the city of McKenzie is the only municipality which has not approved the interlocal agreement yet.
Under the agreement, the Trustees' office agrees to send tax notices and collect property taxes for the municipalities which "is in the best interest of persons and entities owning interests in real estate located within Henry County that payment of county and municipal taxes be collected by one centranlized collector rather than multiple collectors."
French said having one office collect property taxes will be "a good service for all the citizens. It will be a one-stop shop and with us doing it, people can pay their taxes online and even do partial payments. We can do a lot of things that the smaller cities can't do."
In answer to questions from the commission, French said she has met with the municipalities on the proposal and that her office would not need to add personnel.
County Attorney Rob Whitfield said the interlocal agreement is in order, noting that under state law, municipalities have the option to either collect their own taxes or have the county collect them. Previously, local municipalities had elected to collect their own.
"The effect of this will be to consolidate the tax collection so that you only have to go to one place to pay your taxes," he said.
If down the road a municipality decides it wants to resume collecting its own taxes, he said, they can do so with 120 days notice.
In other business:
–Monday night's meeting was recessed with first reading of the Henry County budget, with second and final reading to occur at a meeting at 5 p.m. Monday, July 11. The new budget includes a 3 percent cost of living raise for employees.
–The commission approved appropriations to non-profit and civic organizations. A total of $91,950 is being appropriated to 19 organizations, which includes the county's volunteer fire departments, Buddy Ball, St. John community services, Habitat for Humanity, CASA, Fair Association, Heritage Center, Arts Council, Youth Baseball, Paris Academy for the Arts, Aspell Recovery, Paris Downtown Boxing, Rescue Squad, Star Center, TCAT, Carl Perkins Center, West Tennessee Hearing and Speech and WRAP.
Photo: County Trustee Randi French answers questions from the commission. (Shannon McFarlin photo).