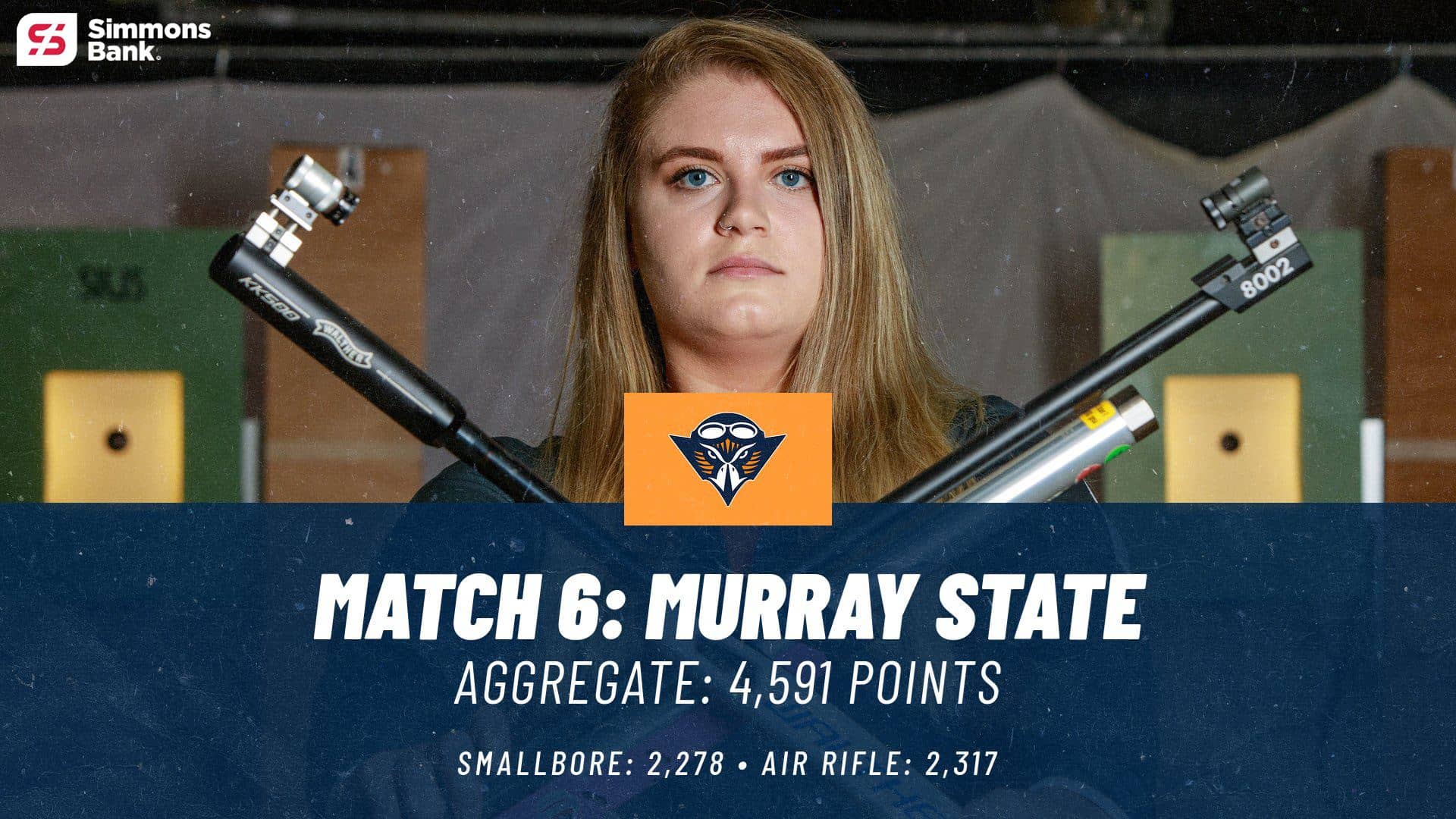 By Ryne Rickman, UT Martin Sports Information Director
MURRAY, Ky. – The University of Tennessee at Martin rifle team showed no rust after a 56-day layoff from official competition, accumulating season-best tallies in aggregate points (4,602) and air rifle scoring (2,324) at No. 7 Murray State today.
Coming in at No. 20 in the latest Collegiate Rifle Coaches Association poll, UT Martin pushed the Racers to the brink before falling by a 4,626-4,591 margin. Despite the setback, the Skyhawks' aggregate score was 11 points better than their previous season-high (also set at Murray State on Oct. 17) while their 2,324 air rifle points bested the prior season-best performance (recorded at the JSU Invitational on Nov. 20).
UT Martin accounted for three individual career-high scores today. Nick Fares piled up new personal-high performances in both air rifle (583) and smallbore (572) while Jesse Chamberlain's 574 in air rifle was good enough for his best collegiate score.
For the sixth consecutive match, Jennifer Plocinik paced the Skyhawks in aggregate scoring, compiling 1,164 points. Fares (1,155) and Rachel Sprague (1,152) were only separated by three total points while Chamberlain (1,131) and Alayna Walther (1,115) also crossed the 1,100-point plateau. Kalen Royal and Rachel Mills also competed individually for UT Martin, dialing up aggregate scores of 1,098 and 1,086 points, respectively.
The Skyhawks were responsible for 2,278 smallbore points – just three shy of the Racers' score. Plocinik's 578 led the way and was followed by Fares' career-high outing of 572. Sprague collected 571 points while the freshman duo of Chamberlain (557) and Walther (554) completed the team score. Royal posted a 539 while Mills came away with a season-best 534 points.
Plocinik amassed 586 points in air rifle to top UT Martin. Ranking just behind her was Fares' career-best 583, Sprague's 581, Chamberlain's career-high 574 and Walther's 561. Amongst the Skyhawk individuals, Royal compiled 559 points while Mills earned a score of 552.
After its first five matches of the 2021-22 campaign occurred on the road, UT Martin hosts its only two home contests next weekend at the Skyhawk Rifle Range. UT Martin welcomes UAB on Saturday, Jan. 22 and No. 17 North Georgia on Sunday, Jan. 23.
Graphic courtesy of UT Martin Sports Information