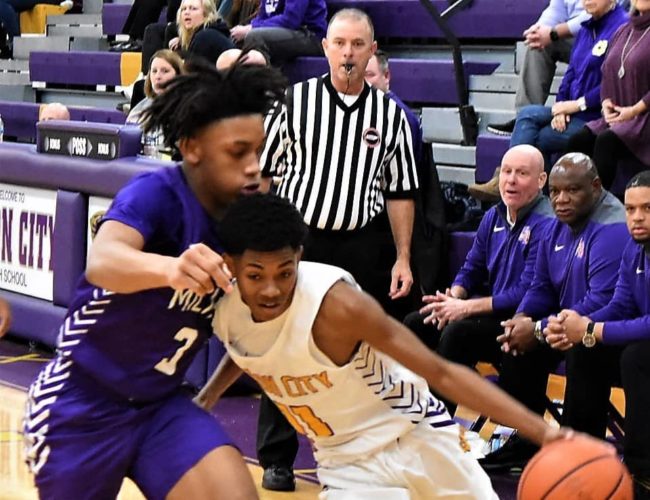 By Mike Hutchens, UC Schools Communications Director
Union City, Tenn.–Union City had to work overtime – and then some – to beat Milan.
The Tornado boys made eight straight free throws in a second OT to finally put away the visiting Bulldogs 70-63 Friday night at Marty Sisco Gymnasium.
UC's girls were awarded a COVID victory over Milan earlier in the week.
D.J. Robinson made four consecutive charities in the second extra session, and both Maliki Brooks and Ben Kail connected twice apiece for the Twister boys, who improved to 7-11 overall and 2-0 in District 12-AA play. Milan is now 7-7 and 0-2, respectively.
Brooks, who dropped in a game-high 33 points that included four 3-pointers and 13-of-15 foul shots in all, gave Union City the lead for good with a slashing bucket with 1:25 showing in the second overtime.
Robinson was perfect in eight trips to the stripe and hit a trio of treys on his way to 27 markers as the starting Purple and Gold backcourt combined for 60 of their teams' 70 points.
The Tornadoes made 28-of-33 free throws in all, including 14-of-18 in the two OT periods. Milan hit 11-of-16.
Both teams had multiple chances to win in regulation and the first overtime but missed shots in the waning seconds.
UC was down by five – 13-8 and 27-22 – at the end of the first and second quarters.
The Twisters, who trailed by as many as nine points in the first half, finally caught up and took a 33-32 lead at the end of the third when Robinson drained consecutive triples and Brooks found the net on a 30-footer under heavy pressure.
A run of 12 unanswered points in the middle stages of the fourth quarter lifted Union City from a four-point deficit to a 45-37 lead with two minutes to play in regulation.
Milan stormed back, though, using a 12-3 flurry of its own to go up 52-50 in the final seconds before Brooks calmly sank two foul shots with six seconds showing to force the first extra four-minute session.
In that initial overtime, both teams scored five points – all of UC's coming from the line.
The Tornadoes welcomed back the services of junior center Jaylen Lewis, who'd missed several games with a knee injury. Lewis had a handful of rebounds and provided some much-needed size inside for Union City.
UC will play at Martin Westview Tuesday in a 12-AA doubleheader.