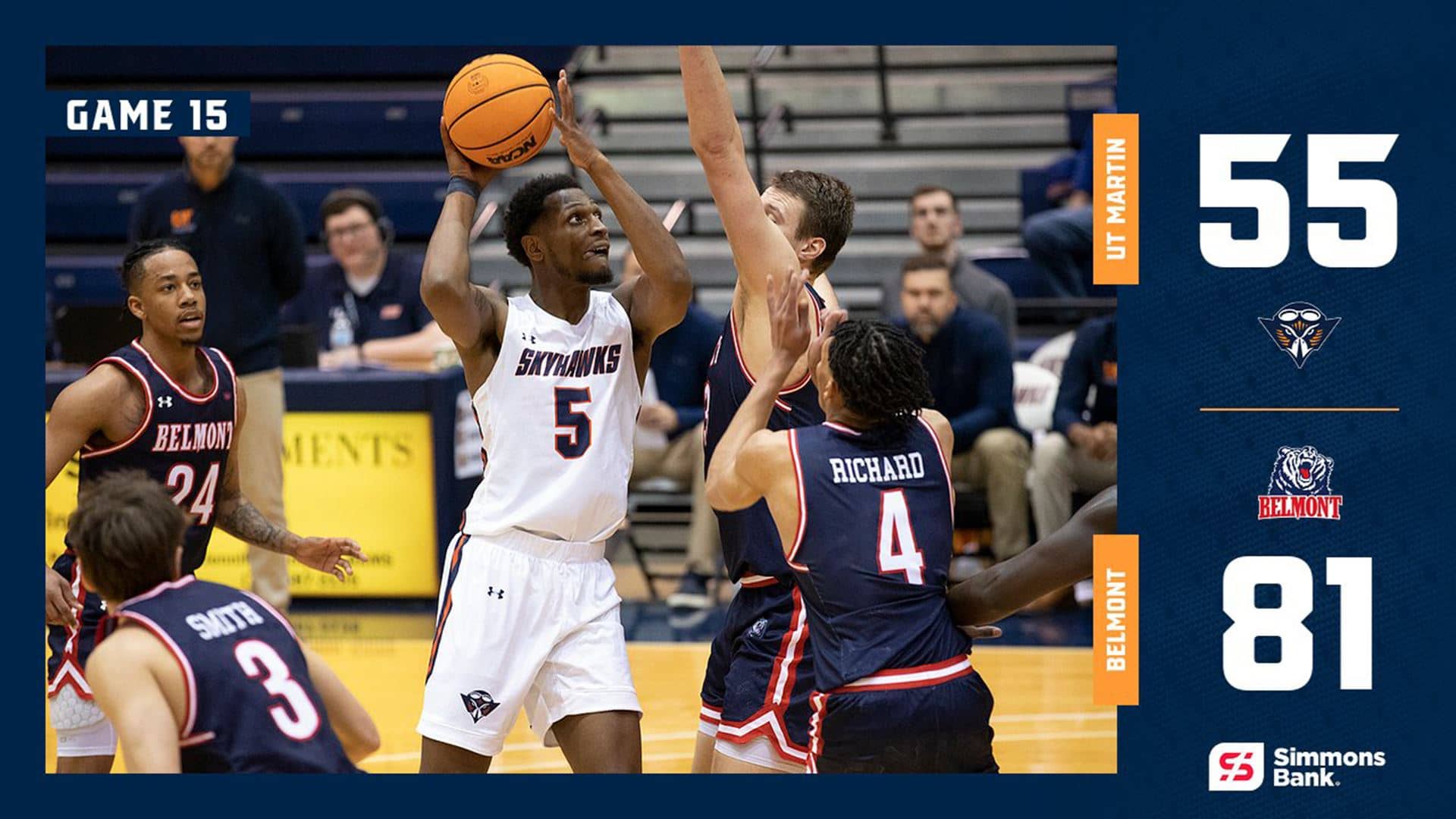 By Ryne Rickman, UT Martin Sports Information Director
MARTIN, Tenn. – The University of Tennessee at Martin men's basketball team received strong frontcourt play this afternoon but the Skyhawks dropped an 81-55 home decision to Belmont.
UT Martin (6-9, 2-1 Ohio Valley Conference) collected 41 points – 74.5 percent of its scoring output – from four different forwards and won the turnover battle by a 17-15 margin. However, the Bruins shot 61.4 percent (35-of-57) from the floor on the way to their seventh consecutive win.
Chris Nix guided the Skyhawks offensively today, scoring a career-best 17 points on 8-of-9 shooting. The 6-9, 215-pound redshirt sophomore from Bellevue, Tenn. additionally contributed three rebounds and two assists in just 23 minutes of playing time.
Bernie Andre posted 15 points and a game-high six rebounds to round out the double-digit scorers for UT Martin.
Belmont (12-3, 2-0 OVC) placed three scorers in double figures – led by Nick Muszynski's 20 points, six rebounds, four assists and three blocks. Ben Sheppard (13 points) and Grayson Murphy (12 points, eight assists) also guided the Bruins, who were tabbed as the OVC preseason favorites.
"We ran into a buzzsaw tonight," Skyhawk head coach Ryan Ridder said. "Belmont is obviously one of the best teams in our league, one of the best teams in mid-major basketball and quite honestly one of the best teams we've played all year. When you're playing a team of Belmont's caliber, you have to play really well to give yourself a chance to win. We just didn't shoot the ball well – to score 55 points at home is not going to be good enough to beat a team like that."
Nix scored UT Martin's first four points before Andre took over with five of the next seven – including a three-pointer a little over five minutes into the contest that gave the Skyhawks an 11-7 advantage.
The Bruins proceeded with an 11-0 run before a floater in the paint from KJ Simon at the 10:54 mark ended Belmont's momentum. That started a stretch where five different UT Martin players scored the next five buckets as KK Curry, Nix and Koby Jeffries added scores before Andre canned a trey to get the Skyhawks back within a single possession (27-24) with 6:31 left in the first half.
Belmont scored nine of the next 10 points in the contest, helping the Bruins claim a 42-31 advantage at the break.
Andre was responsible for a game-high 12 points at the half while Nix pitched in 10 points for UT Martin. The Bruin duo of Muszynski and Murphy each had 10 points in the opening 20 minutes.
Just as he did in the first half, Nix dialed up the Skyhawks' first four points of the final period. Following a fast break driving layup by Simon at the 16:47 mark, the UT Martin offense went cold. Belmont went on a 28-8 run over the next 11:50 to create some separation.
A triple from the left corner by Josiah Morris with 4:46 remaining was UT Martin's first three-pointer of the second half – snapping an 0-for-9 skid to start the final stanza. However, the Skyhawks' deficit was too large to overcome down the stretch.
UT Martin goes back on the road for its next outing, traveling to Morehead State on Wednesday, Jan. 12. Tipoff time from Ellis T. Johnson Arena is scheduled for 6 p.m. CST.
Graphic Courtesy of UT Martin Sports Information