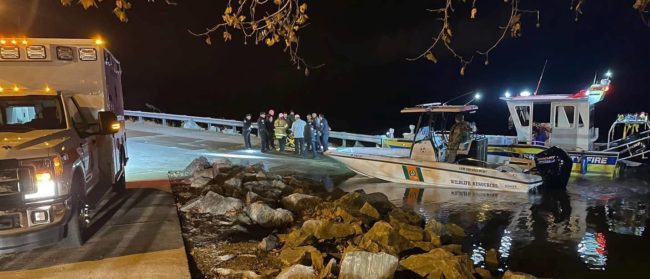 Ashland City, Tenn.–Two high speed pursuits in Ashland City over the weekend resulted injuries, water rescue attempts and a death.
Both Friday and Saturday nights, the Ashland City Fire Department responded to two different motor vehicle crashes within the city limits, due to the driver of the vehicle attempting to flee from law enforcement.
The first crash happened on South Main St. when a vehicle traveling at a high rate of speed left the roadway. After driving through a brick monument sign, the vehicle came to rest in the bank parking lot, according to fire officials.
The second crash happened at Riverbluff Park when the vehicle failed to negotiate a curve along the bank of the Cumberland River. The vehicle was witnessed leaving the roadway, entering the water and becoming submerged.
The Fire Department's Water Rescue 138 was deployed and able to locate the vehicle via sonar. A diver from Cheatham County EMS made a series of three dives to the vehicle. The deceased driver and K-9 passenger were retrieved.
Responding agencies for both incidents: Ashland City Fire Department, Ashland City Police Department, Cheatham County Sheriffs Office, Cheatham County EMS, Cheatham County Dispatch & TWRA.
Ashland City FD photo.