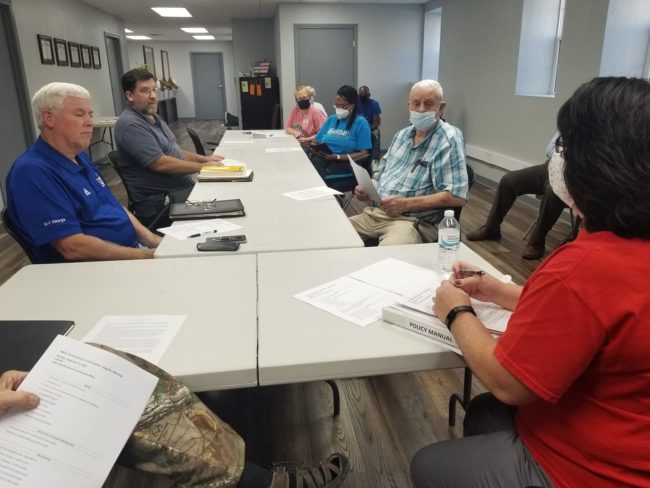 By Shannon McFarlin News Director
Paris, Tenn.–The Henry County Election Commission unanimously approved a list of ten proposed voting centers to replace the current 13 precincts and allow voters to cast their ballots at any of the vote centers on Election Day.
At a public forum discussion of the voting center issue in June, the commission tabled a decision on whether to establish vote centers instead of precincts until more information on redistricting information is available.
At Monday evening's meeting, Elections Administrator DeLaina Green prefaced her proposal by noting that enough of Henry County's redistricting information is known now for the Elections Commission to proceed with its plans.
Green had said at previous meetings that establishing vote centers in Henry County would be cost-effective and that continuing with 13 precincts is not feasible for several reasons: not all are secure, not all are ADA accessible and not all have adequate parking. In addition, all of the vote centers would have to be 'hard-wired' with both internet and WiFi.
The state is moving toward the concept of vote centers to replace precincts. The vote centers concept would not be utilized until the year 2024, but Green noted much planning is required.
At the June public forum, Green had proposed six vote centers and several members of the audience voiced concerns and objections to the proposal. Green said since June, she has been working on a proposal that takes those concerns into consideration. "I believe this will be more pleasing to the public," she said.
Under the proposal, in County Commission District 1, voting centers will be located at Harrelson School and Cottage Grove Baptist Church.
In County Commission District 2, voting centers will be located in Henry School and New Harmony Baptist Church.
County Commission District 3: Lakewood School and Paris Landing Community Center.
County Commission District 4: Grove School and Central Community Center.
County Commission District 5: Henry County High School and TCAT.
All of those locations will be hard-wired, Green said.
A major change with the proposal include closing Paris City Hall for voting and moving to the Central Community Center on Jones Bend Rd. Green noted that for years, City Hall has been inadequate as a voting facility.
Both Mansfield and Oakland Fire Departments would not be used for voting anymore, due to security concerns, with New Harmony Baptist Church opening as a voting center. New Harmony is hard-wired and provides more security, she said.
Under the new proposal, Green noted that no one in the county would have a long drive to vote.
In other business:
–Green noted that COVID has once again become an issue, with the county's active cases on the rise. (Today's active cases total 413, according to the State Department of Health).
She said with the absence of an official Henry County directive, the Elections Office has placed a health alert on the front door encouraging the public to wear masks inside the building. She said COVID has caused the office to close recently due to sickness and being short-staffed. "We're just trying to keep the doors open as well as we can," she said. "Hopefully we can continue to keep things safe and keep the doors open."
–Green reported the commission has received a $25,000 security grant from the state. After discussion, commission members voted that priorities for grant purchases should include installation of firewalls, cameras and generators.
–After a recommendation from Green, the commission voted unanimously that TCAT will be a satellite site for early voting. Currently, the only location in Henry County for early voting is the Elections Office on Grove Blvd., and having a second satellite site would help with congestion. Green said TCAT officials have been more than accommodating.
Photo: Elections Administrator DeLaina Green, right, presents information to Elections Commission members, staff and audience members. (Shannon McFarlin photo).