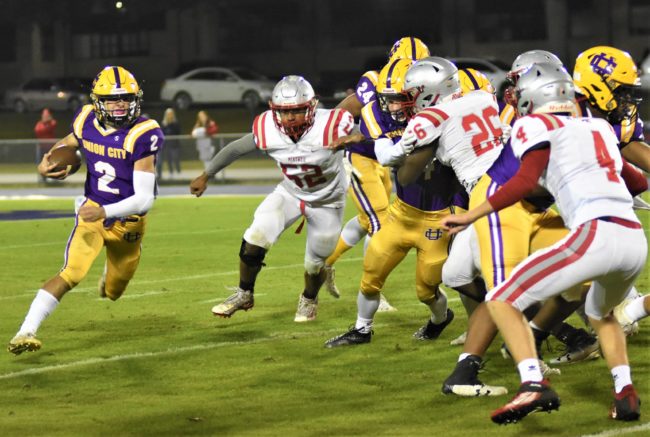 By Mike Hutchens, UC Schools Communications Director
Union City, Tenn.–Union City gained a season-high 505 yards in a spectacular offensive showing against 10th ranked McKenzie.
Sadly, though, the Tornadoes came up one yard short of their only objective.
McKenzie stopped a potential game-winning two-point conversion play from just outside the endzone with 1:52 to go to hand UC a gut-wrenching 49-48 loss Friday night at War Memorial Stadium.
The heartbreaking setback was the third in a row for the Purple and Gold, which now stands at 4-4 overall and 2-2 in Region 7-2A play. McKenzie (5-2, 3-1) leap-frogged the Twisters for second place in the league standings behind two-time reigning state champion and No. 1 ranked Peabody, with Union City and Adamsville now tied for third.
Wes Tilghman's fifth rushing TD of the night – a 58-yard dash up the gut on a quarterback keeper – drew UC within a single point of the Rebels Friday night in a wild back-and fourth track meet that saw the two teams combine for 950 yards and 14 touchdowns.
With the Tornado defense having given up scores on three consecutive possessions in the second half though, Union City head coach Nick Markle opted to go for the lead and a two-point conversion, rather than play for overtime and give the ball back to McKenzie with time left to break a tie score.
And the Twisters' odds of converting were enhanced when the Rebels were penalized for a substitution infraction before the play, moving the snap to just outside the one.
Tilghman was snowed under, though, in the backfield by Logan Lyles and McKenzie then recovered the ensuing onside kick to seal UC's fate.
"Defensively, we hadn't stopped them and they hadn't stopped us on offense all night," Markle said of his decision. "I had all the confidence in the world in us and that we were going to punch it in.
"I'd make the same call again. Every time."
Union City's offense was indeed unstoppable much of the night behind the legs of Tilghman and fullback Travon Westbook, along with a stellar effort in the trenches by linemen Carter Bondurant, Hayden Kennedy, Jon Brayden Powers, Neil Brown and Harris Cagle.
Tilghman had a hand in six touchdowns in all, rushing for 293 yards and five scores, including TD scampers covering 20, 2, 5, 23 and 58 yards. He also threw a pretty 50-yard touchdown pass to freshman Jacob Arnold in the first quarter and had two more scoring plays – a 61-yard paydirt dash and a 58-yard TD aerial to Keandre Moss — wiped away by penalties.
Tilghman went over the 1,000 yard rushing mark for the season with his seventh game of 100 yards or more and now has just over 1,200 yards and 15 TDs for the year.
Westbrook was again a true bruiser at fullback, regularly gaining extra yards after contact with second and third effort. He gained 148 yards on 27 carries and has over 860 yards for the season.
McKenzie sophomore QB Jackson Cassidy was equally impressive for his team, rushing for three touchdowns and throwing for two more.
Neither team led by more than seven points in the back-and-forth shootout that saw the visitors average more than nine yards per-snap and UC over eight.
There were intervals of sloppiness, too, as more than 200 yards of penalties were assessed.
Easily though – despite the bottom line – Union City's overall effort was far better than last week in the second of back-to-back lopsided losses to Dyersburg.
"I thought we played really well and actually deserved to win," Markle added. "We really stressed attitude and effort in practice last week. Those two things go a long way on the football field and in life. I thought our guys responded to being challenged.
"We've just got to win when we have opportunities like that though. We gave up way too many big plays again on defense. That's been a theme for us all season, along with playing so many young and inexperienced guys.
"We just have to be more consistent in what we do. We have to be more aggressive in getting to the ball and we have to shed blocks and focus on our tackling. And we have to make plays when we have the opportunities to do so. We missed a couple of interceptions on one of their drives and, if we make those plays, we really give ourselves an opportunity to get some separation with the way we moved the ball offensively."
Westbrook topped the Tornado tackle chart with nine stops, while Neil Brown had eight and Jamal Cox six.
Union City will host its third Class 4A foe of the season next week when Ripley comes calling. The Tigers (5-3) will be fresh off a 51-44 upset of Region 7 opponent Dyersburg.
Kickoff is set for 7 p.m.
 McKenzie 49, Union City 48
McKenzie                                               14           14          7              14       —       49  
Union City                                             14           14          7              13       —       48
SCORING
UC — Wes Tilghman 20 run (Miguel Sanchez kick) 6:33, 1st
M — Marquez Taylor 62 pass from Jackson Cassidy (Zach Aird kick) 5:36, 1st
UC — Jacob Arnold 50 pass from Tilghman (Sanchez kick) 2:47, 1st
M — Cassidy 32 run (Aird kick) 0:45, 1st
UC — Tilghman 2 run (Sanchez kick) 8:18, 2nd
M — Caleb Gill 2 run (Aird kick) 2:19, 2nd
UC — Travon Westbrook 14 run (Sanchez kick) 1:04, 2nd
M — Logan Lyles 18 pass from Cassidy (Aird kick) 0:08, 2nd
UC — Tilghman 5 run (Sanchez kick) 3:53, 3rd
M — Cassidy 51 run (Aird kick) 2:02, 3rd
M — Cassidy 1 run (Aird kick) 10:53, 4th
UC — Tilghman 23 run (Sanchez kick) 7:07, 4th
M — Taylor 33 run (Aird kick) 4:45, 4th
UC — Tilghman 58 run (run failed) 1:52, 4th
                                                      M                UC
Total Offense                               445              505
Rush Att.-Yards                        31-274        59-455
Comp.-Att.-Int                           7-14-0          1-4-0
Passing Yards                              171              50
First Downs                                  16                26
Punts-Avg.                                 3-19.0             —
Fumbles-Lost                               0-0             3-1
Penalties-Yds.                            13-133          8-70
INDIVIDUAL LEADERS
 RUSHING: McKenzie — Jackson Cassidy 8-153, Marquez Taylor 9-72, Caleb Gill 11-53, Team 3-(-4). Union City — Wes Tilghman 24-293, Travon Westbrook 27-148, Jonathan Stone 3-9, Durrell Littleton 1-8, Jacob Arnold 3-2, Team 1-(-6).
PASSING: McKenzie — Jackson Cassidy 7-14-0 – 171. Union City — Wes Tilghman 1-4-0 — 50.
RECEIVING: McKenzie — Marquez Taylor 3-86, Logan Lyles 2-49, Caleb Gill 1-37, Zay Webber 1-9. Union City — Jacob Arnold 1-50.
RECORDS: McKenzie 5-2 (3-1); Union City 4-4 (2-2).
NEXT GAME: Union City hosts Ripley, Friday, Oct. 23, at 7 p.m.