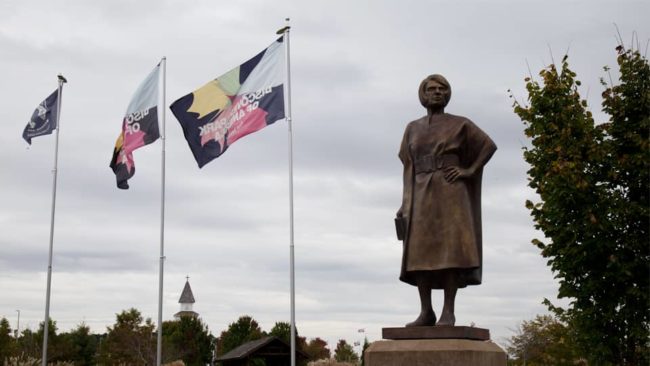 Union City, Tenn.–Discovery Park of America's statue of Ayn Rand, standing tall next to historic icons from history like Abraham Lincoln, Ronald Reagan and Thomas Jefferson, generates a variety of reactions from guests. Responses range from pleasantly surprised to outright appalled among those who know of her work, to a moment of discovery for those who don't.
So why is this statue, that seems unassociated with the other figures it stands with, here in the park?
So why is this statue, which seems unassociated with the other figures it stands with, here in the park? Robert Kirkland, who first came up with the idea for a center of education in Northwest Tennessee, had great respect for Rand and wished to see her honored for the influence she'd had on his life. Kirkland, who died in 2015 at age 77, was an outspoken supporter of Rand and was particularly interested in her bestselling book, "Atlas Shrugged." Kirkland is even listed as a producer for the second and third part of the film trilogy based on her novel.
"…OBJECTIVISM AS, 'THE CONCEPT OF MAN AS A HEROIC BEING, WITH HIS OWN HAPPINESS AS THE MORAL PURPOSE OF HIS LIFE, WITH PRODUCTIVE ACHIEVEMENT AS HIS NOBLEST ACTIVITY, AND REASON AS HIS OWN ABSOLUTE.'"
Ayn Rand promoted the idea of "rational selfishness" in her controversial philosophy, named Objectivism, and she spent years refining and publicly debating its core concepts until her death in 1982. The Ayn Rand Institute describes her philosophy as a way of life that involves seeking reason before whim, working hard to achieve a life of purpose and self-esteem and pursuing your own happiness as the highest moral aim. Objectivism champions the concept that if we treat others fairly and trade "value for value," individuals will prosper. Rand's statue at Discovery Park features her in a powerful pose, holding her hip with one arm and a book with the other, and includes a plaque that presents the definition of Objectivism as, "the concept of man as a heroic being, with his own happiness as the moral purpose of his life, with productive achievement as his noblest activity, and reason as his own absolute."
Rand's detractors argued her philosophy was selfish and included hypocrisies that paint the image of an unrealistic world. She also received massive negative feedback when she bluntly dismissed religion, arguing that it took away from mankind's image as independent and powerful beings. Rand never fit neatly into a political party and often made statements that caused members of all factions to turn against her. In today's explosive political climate, Rand's philosophy is sometimes cited, resulting in her legacy being both supported and slandered in media to this day.
Controversial figures such as Rand can be used as an opportunity for guests to "see beyond" and evaluate their own beliefs, whether they align with other's views or not. You never know what you may discover at Discovery Park of America.