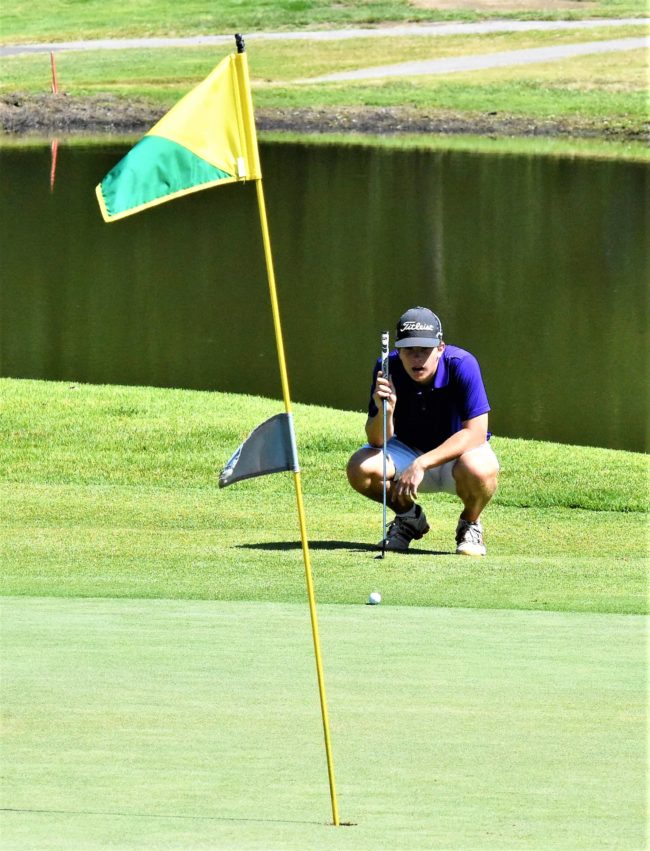 By Mike Hutchens, UC Schools Communications Director
Union City, Tenn.–Carter Walton did better than most of the field of 64 on the first day of the Small Division Boys' State Golf Tournament.
He has plans of doing even better on Day 2 Wednesday.
The Union City High School senior is tied for 19th after shooting a 9-over-par 81 at the WillowBrook Golf Club in Manchester on Tuesday.
Walton was five-over (41) on the front side and four-over on the back side. He birdied a hole on both the first-nine and another on the second-nine and sprinkled in five pars.
Walton was quick to say he could've easily shot a better score if not for a handful of three-putts and believes eliminating those hiccups can help him move up the leaderboard on the second day of the 36-hole event.
"Irons and putting, I felt like I left some strokes out there because I didn't hit either of those very well," he said after completing his round that included defending champion Evan Woosley-Reid in his foursome. "I got off the tee really well and hit a lot of fairways. I think I had four or five three-putts though, and that really kept me from being up there on the scoreboard."
Walton had a large contingent of family in his following, including brother Tyler who likewise qualified for the honor as a high school senior two years ago.
Carter said he thought walking around the course back then with him in a support role helped him with the course familiarity.
"I certainly don't think that hurt to have been here before when Tyler played here," the younger Walton said. "I was able to recognize some things that I remembered from before, and I know which holes I could attack and when to play conservatively."
UCHS head coach Jason Qualls said he thought Carter handled the big stage of the state tourney well.
"He might've been a little nervous early, but he fought that off and hit a lot of fairways," Qualls said. "Keeping the ball in bounds is always critical to shooting a good score, and he did that. I know he got a little frustrated with his putting, but he held himself together really well through that."
Cayden Chambers of Waverly shot a 1-under 71 to lead the field by a single stroke.
Walton's score was the second-best of any rural West Tennessee golfer, trailing only Jonathan Moore of McKenzie, who shot a 4-over 76. Moore edged Walton in a playoff for the District 13 title.