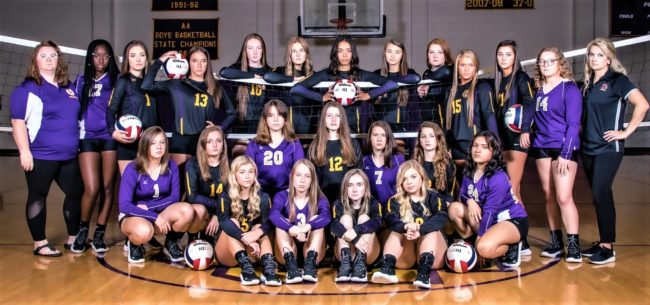 By Mike Hutchens, UC Schools Communications Director
Union City, Tenn.–The Union City High School volleyball team will enter the district tournament as the No. 2 seed.
There's certainly promise for the program's future.
Though the Lady Tornadoes dropped a 3-0 decision to regular season league champion Halls Monday night, the UC jayvee team claimed a 2-0 victory in the preliminary matchup.
Morgan Palmer had 15 service points, Lainey Barker finished with 13 and Emma Powell added nine in the Union City junior varsity triumph that saw the Purple and Gold win both games 27-25.
Bayleigh Long registered 10 kills in the middle, Barker pitched in with nine and Mary Morgan Hale had eight on the outside for the Twister girls.
Halls, which claimed the regular season crown with the varsity triumph, had to work hard to win the nightcap.
The Lady Tigers did, though, 25-14, 26-24 and 25-20.
Top servers for UC included Kaigan Davis (12 points), Raegan Taylor (11), Samantha Geroge (11) and Marlee Johnson (10).
Anna Lynn Cheatham pounded 16 kills, while Davis was good for 15 and Johnson 10.
The loss dropped the Lady Tornadoes to 12-3 heading into their final two matches of the regular season later this week. Union City plays at West Carroll this evening, then hosts Fulton County Thursday for the program's annual Pink Out game.