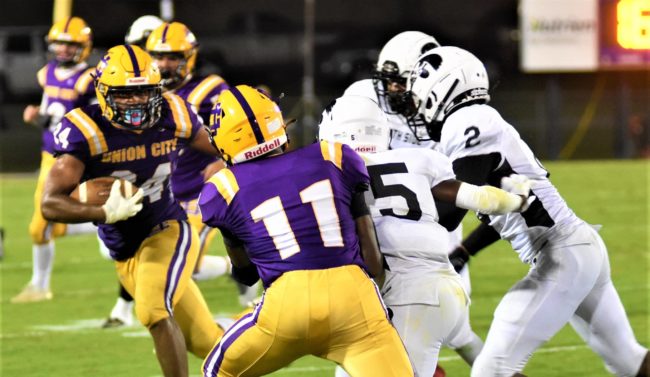 By Mike Hutchens, UC Schools Communications Director
Union City, Tenn.–Union City's defense more than held up its end of the deal against Jackson South Side.
 Limiting the Hawks to just 190 total yards and keeping a couple of gifted SS playmakers in check, the Golden Tornadoes won their fourth straight since a season-opening loss with a 28-23 Homecoming victory over the Class 4A visitors Friday night.
 UC held South Side to just over two yards-per-carry on 28 rushes and made 10 tackles behind the line of scrimmage in easily its best defensive performance to date.
 The Twister offense packed a pretty good punch, too, with quarterback Wes Tilghman (169 yards) and fullback Travon Westbrook (118) combining for 287 yards and three touchdowns as the Purple and Gold scored in every quarter and never trailed.
 The night belonged to a gang of Purple and Gold defenders, though, who regularly rallied around the ball, came up with a pair of timely turnovers and turned away the Hawks inside their own 10 yard-line just before the intermission.
 Linebacker Alexander Cox led the unit with a team-high 13 tackles, a total that included two for lost yards, a sack and a fumble recovery. Neil Brown and Donovan Martinez also shined with a pair of stops for minus yards, while Gage Smith and Kolby Craig both finished with nine tackles in all.
 "Number-5 (Jermaine Moore) and Number-2 (Desean Pope), those are two electrifying kids when they have the ball in their hands," Union City head coach Nick Markle said afterward. "To be able to hold that offense to under 200 yards total is a spectacular accomplishment for our guys. Hats off to Coach (Wade) Maddox and our defense.
 "They took coaching this week in practice and got in a lot of good reps. And that carried over to the game tonight. We made some plays and we got a lot of hats around the ball. We pressured their quarterback and we came up with a couple of really big turnovers in the second half with Durrell's (Littleton) interception and the fumble recovery by Cox.
 "For us to play a 4A team that is that talented on offense, and do the things we were able to do defensively, should really be a boost to our confidence as we head into the second half of our season and some really tough opponents."
 UC never trailed in the contest, taking the lead late in the opening period on the first of Tilghman's two TD runs – a 34-yarder.
 Westbrook's four-yard paydirt dive in the first minute of the second stanza broke a 7-all tie and put the Tornadoes up for good.
 South Side (1-3) had a score called back by penalty in the second quarter and was forced to settle for a 35-yard field goal by William Steen to cut the difference to 14-10.
 The Twister defense then came up huge in the final minutes before intermission, holding the Hawks out of the endzone after they'd driven to the UC eight. Cox had one of his tackles behind the line and a holding call on the visitors negated a scoring pass before James Burcham knocked away another aerial.
 "That was really big to keep them from getting points going into the halftime after we'd turned the ball over," Markle acknowledged. "Our guys just bowed up there and refused to budge anymore."
 Tilghman appeared to widen the lead when he took off on a 63-yard sprint toward the South Side goal line on UC's third play from scrimmage after the break. The Twister signal-caller was ruled to have fumbled the ball through the endzone and out of bounds, though, just before breaking the plane of the goal line.
 Having made it 5-for-5 in eclipsing 100 yards in a game this season, Tilghman redeemed himself later in the third stanza – covering the ball with both hands as he danced to paydirt on a 49-yard dash on a 4th-and-6 play.
 Gage Smith gave the Tornadoes some breathing room with a 23-yard scoring rumble up the gut with just under three minutes to go to make it 28-16 after Miguel Sanchez nailed his fourth PAT in as many tries.
 The win was secured with just over a minute left when Keaton Brown recovered an onside kick after the Hawks had crept to within the final score.
 "We were able to use their aggressiveness against them a few times with the reverse and the counter (play)," Markle said. "With what we do with our motion and the flow of things, it puts a lot of pressure on the opposing defense to be disciplined. The counters and reverses can be really effective in those situations.
 "And all in all, our kids just played with so much fire and a lot of heart. It was a really good win against quality competition for the Purple and Gold tonight."
Senior Kimaria Jackson was crowned Homecoming Queen in halftime ceremonies. Her court consisted of Senior Princesses Laken Prather and Samantha George, Junior Princess Kamia Cross, Sophomore Princess Reagan Durkee and Freshman Princess Shelby Bondurant.
 Union City will begin the second half of its season next week with a trip to Trenton, where two-time reigning Class 2A champion and No. 1 ranked Peabody will be waiting. The Tide (6-0) has a 29-game winning streak that has spanned over three seasons.
 Kickoff is set for 7 p.m.
Union City 28, South Side 23
South Side                              7             3         0            13       —       23  
Union City                             7             7         7             7        —       28
SCORING
UC — Wes Tilghman 34 run (Miguel Sanchez kick) 2:35, 1st
SS — Jermain Moore 85 kickoff return (William Steen kick) 2:20, 1st
UC — Travon Westbrook 4 run (Sanchez kick) 11:06, 2nd
SS — Steen 35 field goal. 7:33, 2nd
UC — Tilghman 51 run (Sanchez kick) 1:33, 3rd
SS — Marshal Ray 28 run (kick blocked) 11:02, 4th
UC — Gage Smith 23 run (Sanchez kick) 2:58, 4th
SS — Cam'Ron Anderson 29 pass from Moore (Steen kick) 1:09, 4th
                                                     SS               UC
Total Offense                               190              364
Rush Att.-Yards                        28-65          52-355
Comp.-Att.-Int                          11-20-1         1-5-1
Passing Yards                             124                 9
First Downs                                  10                15
Punts-Avg.                                 3-41.6          3-36.6
Fumbles-Lost                              4-1               2-1
Penalties-Yds.                             9-78             8-63
INDIVIDUAL LEADERS
 RUSHING: South Side — Carlos Arias 12-31, Marshal Ray 1-28, Graham Calloway 5-9, Jermaine Moore 4-4, T.J. Harshaw 1-(-3), Cole Britton 5-(-4). Union City — Wes Tilghman 16-169, Travon Westbrook 24-118, Gage Smith 3-29, James Burcham 3-27, Durrell Littleton 4-10, Jonathan Stone 2-5, Team 1-(-4).
PASSING: South Side — Cole Britton 8-16-1 – 69, Jermaine Moore 3-4-0 – 56. Union City — Wes Tilghman 1-5-1 — 5.
RECEIVING: South Side — Keyshaun Wood 5-39, Desean Pope 2-33, Jermaine Moore 2-12, Cam'Ron Anderson 1-29, Micah Blakemore 1-12.  Union City — Durrell Littleton 1-9.
RECORDS: South Side 1-3 Union City 4-1.
NEXT GAME: Union City plays at Trenton Peabody, Friday, Oct. 2, at 7 p.m.