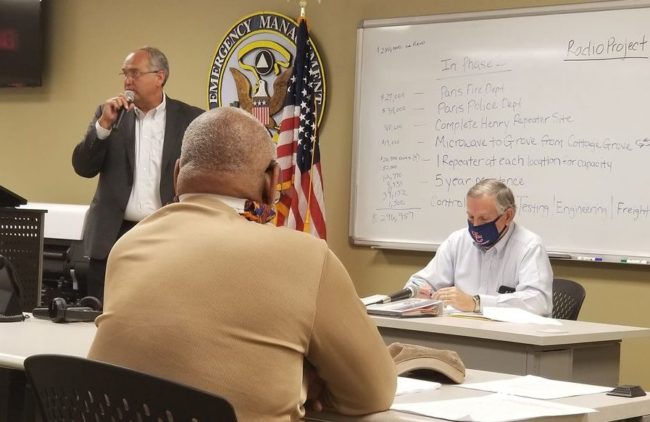 By Shannon McFarlin News Director
Paris, Tenn.—By unanimous vote, the Henry County Commission entered into a partnership with the West Kentucky & Tennessee Telecommunications Cooperative with a goal to provide the opportunity for broadband services for every household in Henry County.
Since last Tuesday night's special meeting, at which the commissioners gave the green light for the partnership, County Mayor Brent Greer said he, County Attorney Rob Whitfield III, and WK&T officials 'worked diligently, even through the weekend and up until 3 p.m. today" on the terms of the agreement.
"Broadband is extremely necessary for our underserved areas," Greer said. "Within a short period of time, we've put a lot of things together because of the importance of this."
After discussion of the agreement, Greer applauded the commission "for the step you are taking to hopefully do so much for Henry County." What Henry County is doing is similar to what TVA did decades ago "bringing electricity to our homes. This is a monumental step that our communities are going to need to make for our childrens' future."
Greer noted the work on providing broadband to Henry County actually started 18 months ago with much the same goals as there are now. "And 18 months ago, COVID was not even an issue, but we were already working on telehealth and other aspects that are being presented today. Then COVID hit and our world changed overnight."
With COVID, virtual schooling was a necessity and with it universal broadband also has become a necessity. "What we're talking about is building a virtual school in each household and this project has a lot of challenges to it."
Henry County's cost for the initial study would be $20,000, with the county's match at $30,000 for the $2M grant from the state. Thus, the first steps for the project would be: WK&T investment $3M, Henry County investment $3M, and state investment $2M.
Part of the matching grant requires that 325 homes which do not already have broadband be provided with three months' worth of free service, Greer said, after which if they wanted broadband permanently, they would pay for it.
WK&T CEO Trevor Bonnstetter said time was of the essence in pulling the agreement together "because the grant deadline is very soon. We stand ready to work with you to provide broadband to all households in Henry County."
Greer told the commission, "This is a great step and I applaud you for making this decision."
During the citizens' forum, Jerry Yount asked the commission to work to make sure broadband happens throughout the county. He said it's needed now more than ever, especially since many people now rely on the internet for grocery deliveries and school children rely on it for their education.
Shaun Poole also spoke during the citizens' forum, stating that Paris "needs to start dealing with social issues in this town". He pointed to the gathering at the courthouse lawn a few weeks ago to protect the statue of the Confederate soldier. "That was a sad display of human decency", he said, noting that "people were using the 'n' word. We need to get these symbols of hate taken down. There's nothing historical about it. It's a statue to a cause, not a person."
He also said he would like to see people get together to change the state age requirement for running for County Mayor. Poole had taken out petitions for the office but the local election commission withdrew his name from the ballot because he is 22 and state law requires candidates to be 25.
In other business:
–The commission approved an amendment to the economic impact plan originally adopted for the Hampton Inn project planned for Paris. With delays caused by the COVID-19 pandemic, the project has a new completion date of May 31, 2022. The city of Paris also approved an extension for the project at its September meeting. Original completion date was October 31, 2021.
–Commissioner David Webb said the Henry Co. Historical Society's project to restore the city of Paris' 1927 fire engine has hit a snag, with an unexpected cost of $20,000 "which is a major expense for us." The gas tank is beyond repair, the running boards are rotten, wheels have dry rot and some aspects of the project, such as painting, are more expensive since the COVID-19 pandemic hit.
Webb is the County Historian and President of the Historical Society and said he will be requesting $7,500 from the county and $7,500 from the city of Paris to help with the project. "We can raise $5,000 of that, but we're going to need additional help from the county," he said.