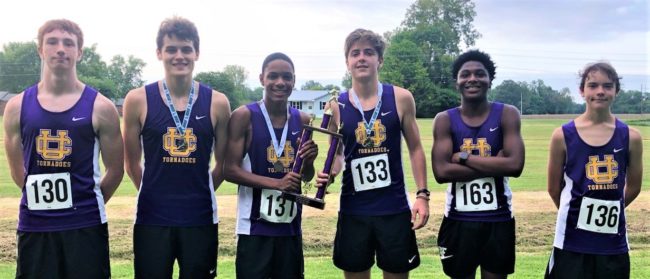 By Mike Hutchens, UC Schools Communications Director
Union City, Tenn.–Tuesday was a day for hardware for Union City's fall sports teams.
The Tornado boys' cross country team won first place in their own Invitational while the Lady Tornado golf squad claimed the runner-up trophy in the District 14 Small Division Tournament at Persimmon Hills in Sharon.
UC had four boys (Cedrion Cook, BJ Frankum, Matthew Parr and Ben Martinek) medal while claiming the championship of its meet at Graham Park for the second straight year with 55 total points. Bailey Wagoner recorded an impressive seventh-place individual finish on the girls' side to also medal for the Purple and Gold.
Cook came in third overall with a time of 18:08, Frankum was fourth at 18:17, Parr finished 13th with a time of 19:03 and Martinek finished in 16th at 19:26.
Colby Butler finished 24th.
Wagoner posted a 23:38 for her seventh-place showing.
Lizzy Jones was 37th, Chloe Meade 44th and Jorge Frankum 55th among the large field.
On the links, led by the promising freshman duo of Mimi Jenkins and Molly Kizer, the UC girls shot 207 to finish in second place behind only McKenzie to secure a regional tournament berth next week at the same Weakley County venue.
Jenkins shot 102, one shot better than Kizer. Olivia Tanner came in with a 120.
There were 14 girls in all in the field.
"I think it says a lot for both the present and the future of our girls' program," Union City head coach Jason Qualls said of his young troops' finish. "Obviously, it's a great experience for the two freshmen, and anytime you can advance in the postseason it's a tremendous learning experience.
"They've given themselves a chance by making it to the regional next week. And it's just going to make them better down the road."
HIGH SCHOOL VOLLEYBALL
UC 3, Westview 0
The Lady Tornadoes completed a season sweep of Martin, winning 25-19, 25-18 and 25-16 on the Lady Chargers' homecourt.
Marlee Johnson served up 22 points, Erin Oatsvall added 16 and Abby Suiter finished with 14 service points for UC, which improved to 9-2 on the season.
Anna Cheatham recorded 15 kills, Suiter had a dozen and Kaigan Davis was good for nine in that department.
Union City also won the jayvee match in straight sets, 25-21 and 25-17.
Morgan Palmer delivered 11 service points while Cheatham had 10 and Lainey Barker nine.
Cheatham also had seven kills with Emma Parks credited with five and Bayleigh Long finished with four.
UC will travel to Humboldt Thursday, the varsity-only match beginning at 6 p.m.
MIDDLE SCHOOL SOFTBALL
UC 11, Dresden 2
Kennedi Robinson and Sarah Beth Byars both had three hits and two runs scored at the top of the Tornado lineup to help the Purple and Gold run away from Dresden.
Union City pounded out 15 hits and scored four times in the first and four more in the fifth to improve to 5-3 with the victory.
Edie Rodgers and Clare Atwill each singled twice, as did Maddie Theobald for the victors. Alli Kate Frilling and Claire Frilling both were good for a pair of RBI.
Alli Kate Frilling notched the pitching win, giving up just three hits. Both Dresden runs were unearned.
Union City will play host to Paris Inman Thursday, the first pitch scheduled for 5 p.m.