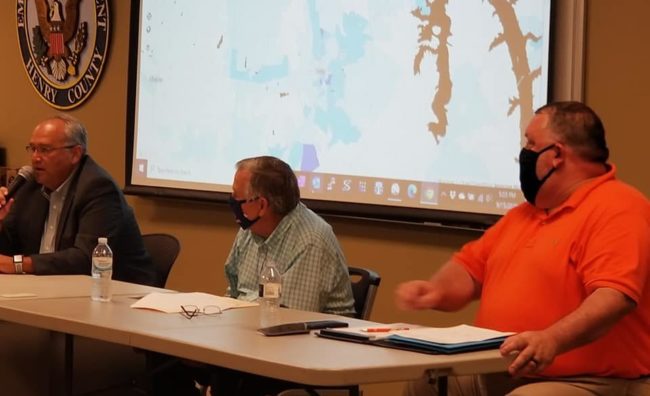 By Shannon McFarlin News Director
Paris, Tenn.—Henry County's commitment to provide the opportunity for every household to have broadband access is moving ever closer to reality with Monday night's special work session with WK&T Communications Cooperative.
The session was called by County Mayor Brent Greer and involved the county commissioners along with Paris Mayor Carlton Gerrell, City Manager Kim Foster and city commissioners, 911 Director Mark Archer, County Emergency Management Agency Director Ron Watkins, Paris Public Utility Authority CEO Terry Wimberley, State Rep. Bruce Griffey, along with West Kentucky & Tennessee Communications Cooperative CEO Trevor Bonnstetter and other WK&T officials and Rick Dulaney from Raymond James.
The Henry County Commission will meet in regular session next Monday night, Sept. 21, to consider resolutions to possibly approve a Broadband feasibility study agreement and Broadband partnership with WK&T which would include a commitment to build a broadband infrastructure that would eventually cover the entire county.
Greer said, "This started out about 18 months ago when the Paris-Henry County Industrial Committee was looking at rural workforce development and we wanted to build our workforce and we knew building broadband in the rural areas was difficult. Then COVID came along and that changed the game" with a higher need for broadband connectivity for households and with state and federal monies that wee available. "We contacted various carriers about what could be brought to rural areas."
WK&T was already placing fiber in Henry County "and we start talking to them which morphed into more discussion with them," Greer said.
After a presentation from WK&T and lengthy discussion, Greer said Henry County's cost for the initial study would be $20,000, with the county's match at $30,000 for the $2M grant from the state. The first steps for the project would be: WK&T investment $3M; Henry County investment $3M; and state investment $2M. That would
Greer said, "This is a challenge, but I'm totally comfortable making this commitment on behalf of the county. It will be challenging for the new leadership coming in, but the county is positioned to make an investment like this. I hate to see us miss this opportunity."
Wimberley said, "This is a real education for us, but they've educated us a lot. Taking broadband into rural areas is an expensive thing to do and is not cost effective. If it was, it would already be done. I think you have something big in front of you, but we're being given the opportunity as a community. We have a provider willing to come here and be a partner. They're willing to come in here and we as a utility don't mind partnering with WK&T."
WK&T already covers the Cottage Grove, Puryear and Cypress areas and has for 60 years and has applied for grant monies for the Springville area "and we building there right now", Bonnstetter said, along with the Como area.
"The pandemic has moved all this forward by two or three years" because of the higher need for connectivity to each household, Bonnstetter said. "It's frustrating for us because we want to provide service for as many people as we can and want to get as much grant money as we can" but because of federal restrictions, there are areas that aren't covered.
Former State Rep. and Henry County Mayor Candidate Tim Wirgau of Paris praised the service provided by WK&T, saying, "You're service is so much better than what we have right here in the city of Paris." Bonnstetter said WK&T's service "is the fastest in the state."
Greer said monies are available through the CARES Act and through other COVID-related programs for the project.
"What we really are talking about here is building a virtual school, county-wide. Every home will be able to have a virtual school," Greer said. "School has changed from as we all knew it. We all want our children back in school but I'm not sure that's going to happen five days a week. I believe there will always be a virtual component now. And it is going to cost our county money for our citizens."
The initial costs, he said, are relatively low "and to not do it, shame on us. Every household in Henry County will have the opportunity to have it but that doesn't mean every household will take the opportunity."
Greer said that with the help of the Raymond James firm, the county is looking for the best provider with the best interest rates. Dulaney will get back with county commissioners on Monday night.
Bonnstetter agreed: "We want to find the most affordable way. We have a commitment to bring broadband to everyone over a certain period of time, but we don't promise anyone that they will be the next in line."
Griffey said the state's reception toward providing broadband to all communities is "positive".
Gerrell said, "People say we need jobs but this community has to figure out a way to do this and pay for it. This is critical for Henry County to move to the next level." (Gerrell is also a County Mayor candidate).
Providing broadband county-wide "is as important as it was to provide electricity to everyone was in the 1930s," Griffey said. "If we don't, we're selling our citizens short."
Photo: WK&T CEO Trevor Bonstetter, left, speaks while County Mayor Brent Greer and Paris City Mayor Carlton Gerrell look on. (Shannon McFarlin photo).