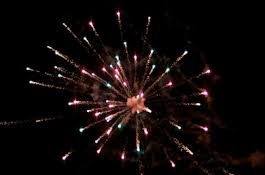 Murray, Ky.–With the 4th of July approaching the Murray Police Department is reminding everyone to have a fun, but safe, holiday. During the 4th of July it is common to see many citizens hold their own private fireworks displays. The Murray Police not only want to remind everyone to be safe during these activities, but to also remind everyone of the laws and city ordinances regarding fireworks.
If you are planning on having a small fireworks event for your friends and families, please keep the following laws and ordinances in mind.
Kentucky state law (KRS 227.715) and City of Murray ordinance (Section 92.70) state that no aerial fireworks can be ignited by any individual under the age of 18 and cannot be set off within 200 feet of any structure, vehicle, or any person.  When using any type of ground or hand-held sparkler, fireworks any person under 18 must be supervised by an adult and not ignited within 50 feet of any structure or vehicle.
City of Murray ordinance 93.03 states "The use of fireworks or other explosives so as to be unreasonably loud, raucous, jarring, disturbing or a nuisance to persons of reasonable sensitivities within the area of audibility" is unlawful.
The reason for these laws is for your safety and the safety of those around you. We hope everyone has a great 4th of July!