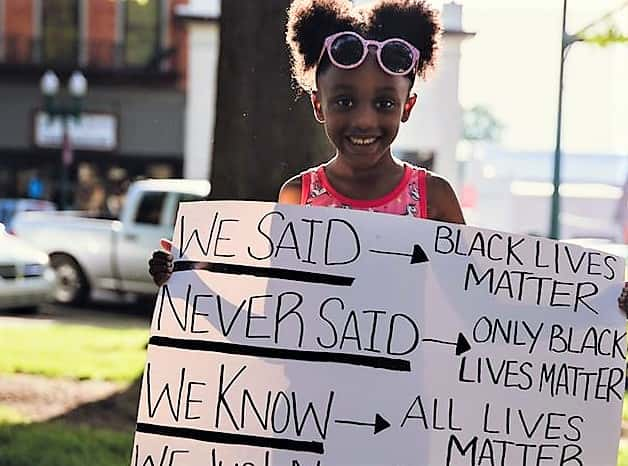 By Shannon McFarlin News Director
Paris, Tenn.–It's the photo that has literally been around the world.
A photo of six-year-old Armani Williams holding a sign at last week's Take A Stand Rally in downtown Paris has gone viral in a big way, with thousands of shares on Facebook, Instagram and Twitter. It's been shared and re-tweeted all over the United States and overseas.
And several famous people, including Carole King, Mariska Hargitay and Cindy Crawford, are among those who have shared the photo, along with the message on the sign that Armani was carrying.
The sign was created by Armani's mother, Shalyndrea Quanise, from a message she saw on Facebook. The sign reads: "We Said–Black Lives Matter; Never Said–Only Black Lives Matter; We Know All Lives Matter; We Just Need Your Help With #Black Lives Matter For Black Lives Are In Danger."
The photographer, Sarah Wills of Paris, said she noticed Armani and the sign "and she looked so sweet and adorable and I asked if I could take a photo."
Willis posted the photo to her personal Facebook page that evening and overnight it had been shared thousands of times. "My original post has 104,000 shares now," she said.
Quanise had the same experience with the photo, having it shared some 90,000 times in a matter of hours. "I'm having trouble keeping up with it," she said. "I don't do Instagram or Twitter, but people send me the shares they see on social media and it's just everywhere. It's even being shared in different countries."
Quanise said, "I'm really overwhelmed by it. I didn't think it would have the impact it has had on so many people. I've seen really good comments about the photo and I've seen some rude comments, too. But the good comments have outweighed the rude comments."
Armani is handling her newfound fame well, she said. "She totally knows what's going on. She knows how much the message means to people. She asked me, 'Am I popular'? I explained to her what was going on and why people liked the sign."
Both Wills and Quanise said they didn't expect the photo to go as far as it has. Quanise said, "I thought it was a powerful message when I first saw it and wanted to share it with people at the rally. I really think we should be focusing on our future in this country and I really hope Armani won't be having to going through all this when she grows up."
Photo by Sarah Wills.