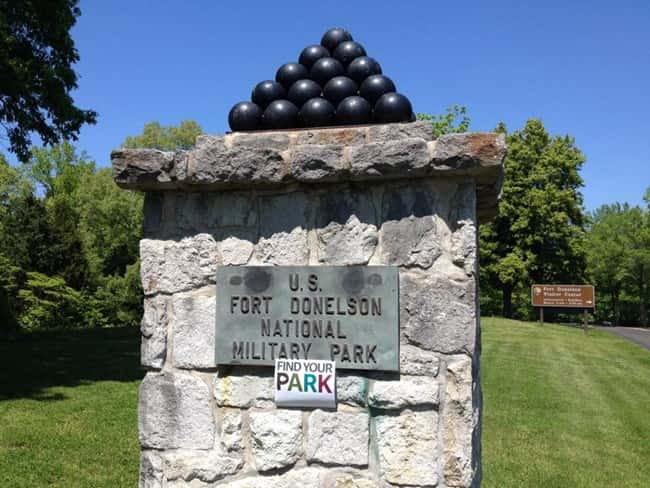 Dover, Tenn.–For many years Fort Donelson National Cemetery has held its annual public Memorial Day ceremony, a large attendance from near and far to join and pay honor to those men and women who lost their lives while serving in the United States military.
This Memorial Day, Monday, May 25, Fort Donelson National Cemetery, in keeping with Center for Diseases Control and Prevention guidelines to limit large gatherings, will not host its traditional on-site observance.   Rather, it will continue its dedication of providing to the public opportunities for contemplation and reflection as to military service and sacrifice throughout our nation's history via nation-wide, shared observance and programs.
"As like other national and veterans cemeteries across the nation, Fort Donelson National Cemetery is providing alternative opportunities to encourage the public to pause, reflect, and to honor our Veterans and servicemembers with the solemn dignity and respect they have earned through their service and sacrifice," said Fort Donelson Superintendent Brian McCutchen.  "Those that visit over a Memorial Day weekend often place flowers at the grave of a loved one, take advantage of the quiet surroundings for personal reflection, or choose to explore the stone markers and the information of those at rest here –often realizing of the dedication and sacrifices involved for the freedoms that we have." 
In the days prior to Memorial Day, Fort Donelson staff will place a United States flag at the base of each grave marker.  A brief, non-public wreath laying observance, accompanied by a moment of silence and the playing of Taps, will occur on Memorial Day.  The national cemetery is accessible for visitation between sunrise and sunset.
In addition, Fort Donelson will join thirty other national park units, across twelve states and the District of Columbia, in hosting an online, virtual commemoration saluting those men and women of America's armed forces that lost their lives during their service. The 2020 National Park Service Virtual Memorial Day Tribute — a social media event spanning more than 13 hours on Memorial Day — features a series of livestreams, demonstrations, historic talks and other activities starting at 8 am EDT/ 7 am CDT. The commemoration covers memorials and stories of the American Revolution, the War of 1812, the Civil War and beyond, and includes a spotlight video tribute of park rangers from Maryland to Montana reciting the "Gettysburg Address."
"Like here at Fort Donelson, National Park Service units across the country are charged with preserving some of America's most important moments of valor and sacrifice where those events occurred," said McCutchen.  "We are honored to provide greater access to these stories by being part of the nation-wide, on-line tribute that pays respect to all who died in service to our country."
For a complete schedule of 2020 National Park Service Virtual Memorial Day Tribute activities, visit go.nps.gov/MemorialDay or follow @FortDonelsonNPS and #VirtualMemorialDay on Facebook.