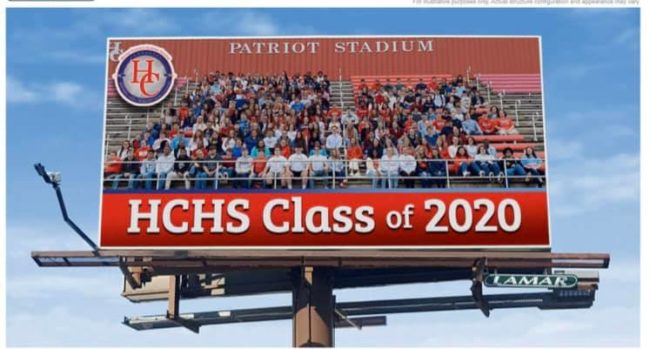 Paris, Tenn.–Just as the latter part of this school year was like no other, this year's high school graduations are like no others before and Henry County Schools officials have issued guidelines that will be followed at the district's graduation ceremony, set for 7:30 p.m. Friday, May 29, at Patriot Stadium.
Grange Digital Marketing will be providing a Live Stream of the HCHS Graduation Ceremony. This will be livestreamed on the HCHS Facebook page. You not have to have a Facebook page to access the page. It can be found by going to Facebook and finding the page (Henry County High School — Paris, Tennessee) or by clicking on the link below. The broadcast will begin before 7:30 p.m. to allow off-campus spectators to have time for access. Once on the page, the viewer will likely need to scroll down to find the "Posts" section.
In a memo to students, parents and media this morning, Principal Michele Webb said, "Each graduate who is eligible to walk the line will be allocated 4 tickets to distribute to family and friends. In preparation for this important event for our seniors and their families, and to adhere to CDC and local guidance, we ask you to please see the guidelines for specific information."
GRADUATES ON THE DAY OF GRADUATION:
Graduate Arrival:
**Graduates are to arrive appropriately dressed (information attached) except for their caps and gowns. The gown should be carried in on a hanger and the cap in hand.
**Graduates are to park at either TCAT or in the tennis court parking lot closest to Wilson Street.
**Graduates are to arrive between 6:00-6:30 p.m.
**Graduates are to enter at their assigned location (given at ticket pick-up and based on their assigned room location).
**Upon entrance, graduates will be directed to their assigned waiting classroom, which will include 10 people max per room, including a staff member.
**Rather than host a face-to-face rehearsal, graduates will view a video in their assigned room to help them know what to expect during the ceremony.
Graduates During the Ceremony:
**Graduates will be seated 6 feet apart on the field to adhere to social distancing guidelines.
**As they cross the stage, graduates will retrieve their diploma covers from a table and then have an individual picture taken before exiting the stage. School and district administration will be on hand to congratulate the students but will avoid contact to provide maximum safety for the graduates and all involved.
**At the end of the ceremony, graduates will be led in the singing of the Alma Mater by the senior Madrigals.
**Graduates will have the opportunity to throw their caps at the end of the Alma Mater. Caps will be collected by school personnel after the ceremony and taken to the building for pick-up by the students after the recessional. Students will not collect caps while on the field. Caps will be collected for them and distributed in the building along with their diplomas.
NOTE: Prior to arrival, graduates should clearly write their name and assigned room number on the inside cardboard part of their caps for easier identification.
**After the Alma Mater and throwing of caps, a recessional will then be held where graduates walk back to the building before guests are dismissed.
**Once inside, students will return to their assigned classrooms to retrieve personal belongings and their diplomas. As soon as caps are in the building, students will be dismissed from the classrooms one classroom at a time to retrieve their caps and then head home to celebrate with you!
**NOTE: No one other than graduates and school personnel will be permitted inside the school building, before or after the ceremony.
**NOTE: Attending the graduation ceremony is not mandatory for students; students who would prefer an alternate (individual) ceremony should contact me.
TICKETS:
**Tickets will be distributed at the front circle of the school (similar to cap and gown pick-up) on the following dates:
–Tuesday, May 26th from 1:00-6:00 p.m.
–Thursday, May 28th 9:00-11:00 a.m.
**Note: Ticket pick-up will not be available on Wednesday, May 27th, due to graduation preparation obligations by HCHS Staff.
**The graduate must be in attendance at ticket pick up. Others will not be able to receive tickets for graduates. If the times listed above are not conducive to the graduate's schedule, an appointment time for pick-up after 11:00 a.m. on May 28th may be made by calling the school office.
**If anyone in your party will need handicapped seating, please send an email to me or contact me by phone no later than Tuesday, May 26th at 9:00 a.m., so we can be sure to make arrangements to accommodate any special seating needs.
**Upon arrival of the student to pick up their tickets, Mrs. Velvet will spin a wheel to determine seating assignment (sections of the stadium will be color-coded to match the color of the tickets). A random spinner will be used to determine the color of tickets received (which determines seating section).
**Each eligible graduate will receive 4 guest tickets.
**Graduates do not need a ticket.
**Every person (including children of ANY age) is required to have a ticket.
**Each color-coded section will hold less than 250 people. To adhere to the recommendations of the CDC and prohibit groups larger than 250 from coming together, it is essential that we have no more than 4 tickets per student.
**Lost tickets will NOT be replaced.
**All 4 guests of each graduate must sit together (otherwise, there is not room to socially distance). Six feet of distance will be allowed between families.
CONSIDERATIONS PRIOR TO GRADUATION:
**No one (including graduates) should come if they are sick or running a fever, showing other signs or symptoms of COVID-19, or if they or someone in their family has been around or exposed to someone with COVID-19. Alternate arrangements can be made if a student is unable to attend.
**All are encouraged to wear a mask and bring hand sanitizer and/or disinfecting wipes.
**Out of town guests, elderly guests, and vulnerable populations are encouraged to view the live stream of graduation on the Henry County Facebook page rather than attend the face-to-face ceremony.
**Only ticketed guests will be allowed on the HCHS campus. No one will be allowed to stand on or around campus to view the graduation, including other athletic fields, parking lots, etc.
GUESTS ON THE DAY OF GRADUATION:
Guest Arrival:
**Guests may arrive no earlier than 5:30 pm.
**Tickets will be required to get in the area close to HCHS and should be kept with each individual ticket holder at all times. Have your ticket ready as you approach the campus.
**Arrive in one vehicle if possible.
**For your convenience, parking and gate access correspond to ticket color (blue, green, orange, red, yellow). This will minimize the distance guests must travel to access the assigned seating sections. A map is attached, and a copy will be included in the graduation packet received at ticket pick up.
**Handicapped parking is available in each lot for those with a state-issued handicap parking permit.
**No one will be allowed on campus or in the stadium to reserve seats, etc., prior to the gates opening. If anyone puts anything down to reserve seats, it will be removed prior to anyone being allowed in the gates.
**As entry into the gate occurs, be mindful of social distancing. Please avoid clustering or bunching up as you enter the stadium. Allow six feet of distance between family groups.
Guests During the Ceremony:
**Upon arrival, guests are to secure seating in their assigned seating section, based on their color of ticket (blue, green, orange, red, yellow). A map is attached and a copy will be included in the graduation packet received at ticket pick up.
**Bleacher seating will be marked to allow for social distancing. Every other row will be used and each set of 4 tickets allows 6 feet of spacing between graduate guest groups.
**Seating in folding chairs will be included in the green and yellow sections. Chairs will be supplied by the school and also will maintain 6 feet of distancing between families.
**The 4 guests of each graduate are to sit together. Otherwise, we will not have enough seating for all.
***Restrooms will be available for each section. Portable bathrooms will be used in the blue, green, red, and yellow sections; the orange section will have access to the stadium restrooms.
**All guests are to be seated before the ceremony begins at 7:30 p.m.
**Guests are asked to remain at their seats during the ceremony; no standing along fences and such.
**Guests are asked to stay in the assigned ticketed section.
**NOTE: In the event of inclement weather, we would be more likely to postpone the ceremony rather than move inside.
Webb said, "We recognize these past few months have been trying. We have experienced the same emotions as you and are excited that our graduation date is nearing. Ultimately, safety is a priority, and our adjustments are in place to help with that. We are proud to be able to offer this ceremony to you at a time when many students across our state and nation do not have the same opportunity. We ask for and appreciate your help in protecting our students, families, and community by adhering to the established guidelines."