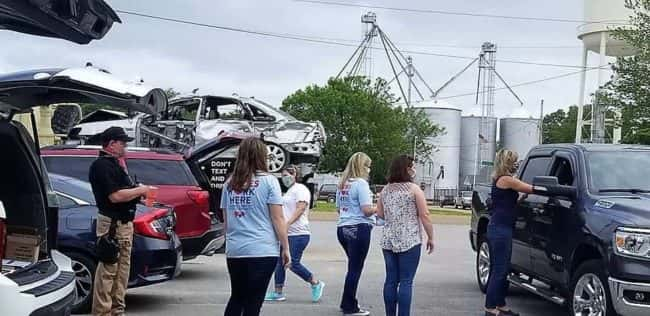 Paris, Tenn.–At drive-thru events today, members of the Henry County Health Department, the Prevention Coalition, Henry County Medical Center, and UT Extension were in Puryear and Henry handing out free face masks, prescription lock boxes and other items for the public. The sheriff's office also was on hand with Drug Take Back collection.
Rachel Matlock of the Health Department said there was a steady stream of people driving or walking up to receive the masks and other items, especially in Henry. They still have a supply of free masks and another drive-thru event will be scheduled at a later date.
She said the Health Department also has a supply at its offices on Joy Street in Paris and anyone wanting one can drop in or call.
Participating at today's events were Michele Atkins of UT Extension, Sarah Thomas, Lori Stambaugh, Gina Matlock and Deputy Cpl. Steven Thomas.
(Shannon McFarlin photo).