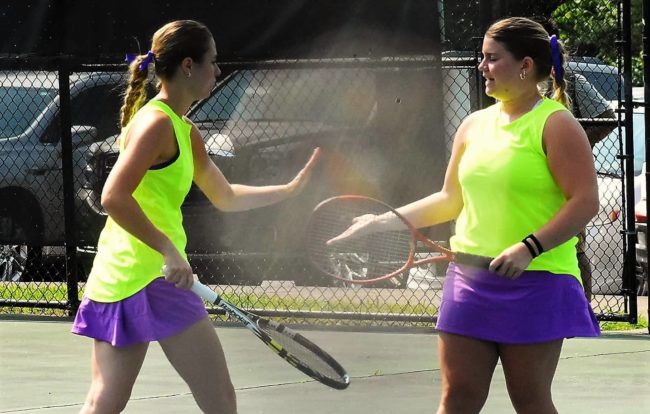 By Mike Hutchens, UC Schools Communications Director
MURFREESBORO – The Union City girls' tennis tandem of Shelby Bondurant and Molly Kizer has proven to be one of a kind this season.
In Thursday's Class 1A state tournament, they made that status official.
Bondurant and Kizer become the first-ever players from the Tornado program to earn a spot in the individual championships by winning quarterfinal and semifinal matches.
The UC duo punched their championship round ticket by beating Cecily Davis and Grace Compton of Chester County 6-1, 5-7, 6-2 in the Final 4. Earlier in the day, the Bondurant/Kizer duo blitzed Meigs County's Macey Bunch and Connleigh Irwin 6-3, 6-0.
Summertown sisters Gracie and Annalee Kelly will oppose Bondurant and Kizer in Friday morning's 9 a.m. title match at the Adams Tennis Complex.
The Kelly girls won both of their matches Thursday in straight sets.
Union City's boys' season officially came to a close earlier Thursday when the senior doubles team of Charleton Wisener and Gavin Pledge lost to Blake Myer and Ben Purnell of Watertown 6-3, 3-6, 5-7 in a quarterfinal match.
Wisener and Pledge, who gave the Tornado boys a state tourney entry for the first time since 2014, were up 2-1 in the second set after taking the first before uncharacteristic errors allowed the Watertown team to rally.
Bondurant and Kizer – who clinched spots on the All-State team by making the finals – had near-flawless stretches in both of their matches Thursday that stamped their special standing.
Combining great baseline and net play, along with overpowering serves, they won 11 straight games in the morning match vs. MC to triumph impressively after falling behind 3-1.
The Union City pair – playing with great confidence – continued that streak of practically-perfect play to open their semifinal matchup with a 6-1 first-set win when they broke CC's service three times.
CC took advantage of a second-set lull when the Lady Tornado tandem seemingly lost focus to force a deciding set before Bondurant and Kizer regained their mojo – winning the first three games when they reeled off 12 straight points with many of the same talents and well-placed shots they'd displayed earlier.
"It obviously says a lot about them and the quality of tennis they've played to get to this point and be the first individuals from our program to play in the finals," UC head coach Tom Sisco said while heaping praise on Bondurant and Kizer. "We've had a lot of good tennis players come through this program, and for them to be the first to make it to the championship match speaks of their work and their fight to get here.
"They went on a great run in the semifinal match this morning, and it continued with an excellent start this afternoon in that first set. We couldn't have played much better.
"Then, I thought they did a great job of resetting to start the third set and cleaning things up after dropping the second. They were focused, and they got their energy back. They recognized their backs were against the wall, and they executed like they're capable."
Union City's Wisener and Pledge looked like they'd join the female teammates in the semis when they got off to a good start in their quarterfinal match Thursday morning.
An extended rough patch when they made several unforced mistakes cost the Tornado pair dearly in the second set, though, then again at the end after they'd forged a 5-all tie before dropping the final two games.
"Just too many unforced errors, and we were never truly able to get in sync for a long period of time," Sisco said in his evaluation of his boys' team. "It's difficult for us to be successful when we can't get into a good rhythm and gain some confidence.
"But I'm extremely proud of Charleton and Gavin. They'll have some great memories of their senior season, and they played their best tennis in the district and regional tournaments. For it to have been nine years since we've had a boys' team to qualify for the state and them to have broken through, this is something we can build on with our boys' program."