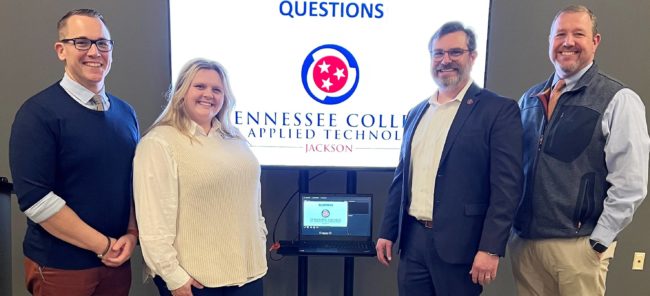 By Lauren Kendall, Obion County Schools Communications Director
Union City, Tenn.–At the most recent American Advertising Federation West Tennessee Event, Discovery Park of America hosted Heath McMillian, President of Tennessee College of Applied Technology Jackson. The event was titled "Preparing the Way for Blue Oval City". McMillian spoke to local professionals interested in what the new TCAT and  BlueOval City electric vehicle assembly plant in Stanton can offer our community. He spoke about the site's development and answered questions regarding the TCAT campus and job opportunities.
Greg Barclay, Assistant Director of Schools, George Leake, Secondary Supervisor of Instruction & CTE and Alternative Education, and Lauren Kendall, Communications Director, attended the conference after the OCS district hosted a recent visit from McMillian. McMillian visited Obion County Central High School and was given a tour of the school's CTE wing a week prior to the AAF event.
McMillian expressed his excitement for Obion County School's focus in student preparation for both traditional and non-traditional education and employment during his speech at the event.
After the event ended, the three OCS staff members and McMillian spoke of the many possibilities that the new campus and plants holds for the students of Obion County Schools.
Photo: From left, Greg Barclay, Lauren Kendall, Heath McMillian, and George Leake.